Jump Start Your Joy Season 1 Finale & Greatest Hits
It's the Jump Start Your Joy  season 1 finale and greatest hits, and I'm so thrilled to be looking back and sharing a true "year of joy."  In this episode, I look back at some of the stand out moments and most memorable interviews, and share my own thoughts on what has been an amazing year of podcasting. Episode 53 will include the second half of this "greatest hits" look-back, and have the top ten most downloaded episodes from my first season.
The highlights really have been about growth, community, and learning, and it's been amazing. When I committed (to myself) to doing a full 52 weeks of weekly shows, I could not have imagined the journey that would unfold. I'm grateful beyond words for the last 52 weeks and very much want to thank you and all of the guests for making it possible.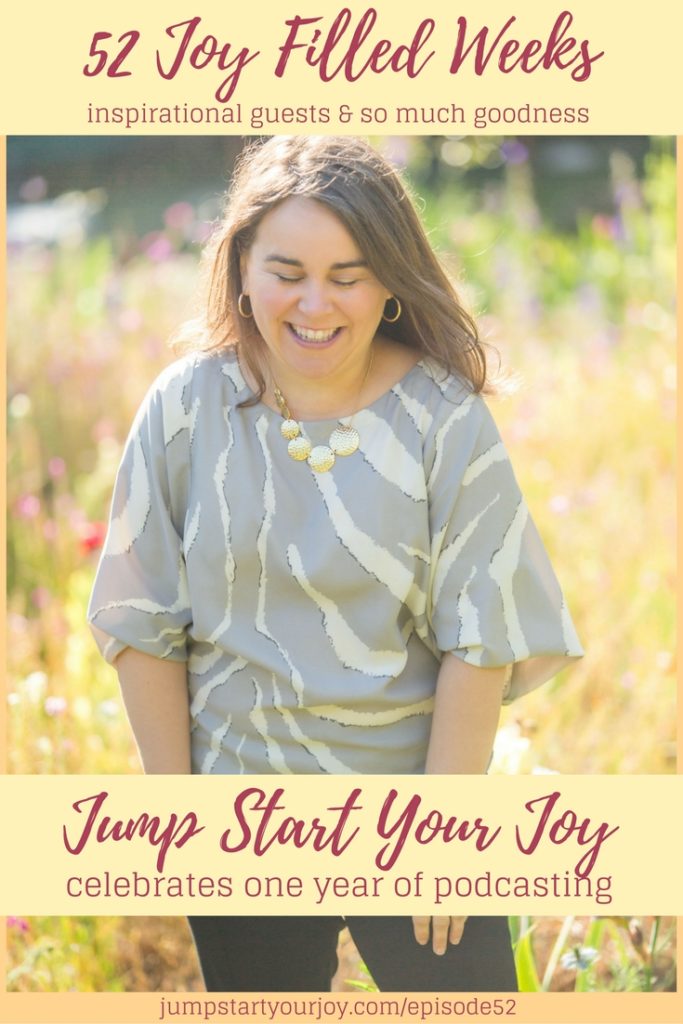 Here's the guests and interviews that are included in this special highlight show:
Episode 25 with Christy Tennery-Spalding – pretty much from the moment Christy and I started talking, it was clear a friendship was in the works. In this clip, she and I met about 2 minutes prior, and we start laughing about how comfortable pants are one of the hallmark of self-care.  As it is with Christy, there's levity, and love, and this beautiful sliver of spot-on genuine wisdom. Listen to the whole episode with Christy Tennery-Spalding>
Episode 51 with Tiffany Han – I adore Tiffany's no-nonsense, straight shooting approach to evolving a business … "Come up with the best answer for right now, and then get going." I have found this to be so true for my own podcast, my podcast class, and so many clients looking to get to "the next thing." Where do we get hung up? On the idea that things will be way harder than they actually will be. And so they way to get past that? Well, get going already! Listen to the whole episode with Tiffany Han >
Episode 15 with Alison Arngrim – OMG, it's Nellie Oleson! I was intimidated beyond belief to speak to the actress that played the ultimate mean girl from my childhood. And then, she busted into reciting lines from Little House on the Prairie, and it quickly became one of those moments where I pinched myself … what I was doing was somehow so very real, and I was so very present. Plus, Alison was a total hoot and I admire her work with Protect.org. She's an amazing example of a celebrity using her fame for the greater good. Listen to the whole episode with Alison Arngrim >
Episode 34 with Laura Simms – Laura is an amazing coach, and I was drawn in by her focus of finding one's purpose, and going after that, instead of going for one's "passion." Passion, she argues, is often something that fizzles out and won't sustain you for the longer haul. Listen to the whole episode with Laura Simms >
Episode 39 with Emilie Wapnick – Emilie is the powerhouse behind "Puttylike" and a self proclaimed "multi-passionate." Multipassionates are people who have more than one interest, and often have several areas in which make or create a career. Emilie is an inspiration, leading the way to show you that we can create a career you love, and that it is possible to do more than one thing for a career (and be successful at it). Listen to the whole episode with Emilie Wapnick >
[bctt tweet=""What if not choosing is my thing? What if I stopped fighting this thing inside of me, and embrace it?" " username="jumpstartjoy"]
Episode 5 with Michelle Ward: Oh, the show with Michelle! <3 Not only do we start off by chatting about the New Kids on the Block and Tiffany, but she lays down some great wisdom about starting a business and find your client base (and how to do that in a non-icky way). She's one of my favorite people, and my former coach, and it was magical having her on the show. Listen to the whole episode with Michelle Ward >
Episode 8 with Kate Courageous (aka Kate Swoboda) – Kate shares about fear and courage, and I've found that facing one's fears is often a key part of finding one's joy. In order to find your way to joy, there's generally some fears that come up – either you're putting yourself out there, you're being vulnerable, you're trying something new… the list goes on. Instead of seeing fear as something "bad" Kate invites you to see it as a wound that just needs to be healed, and loved. Her mentor ship and leadership has also changed my life 🙂 with CLCC. Listen to the whole episode with Kate Courageous >
Episode 50 with Kris Nations – Kris is a jewelry designer and small business owner. I love her work and own several pieces, and was so glad to have her on the show. She also shares about fear, and how it has become a motivator and something she uses to help guide her and her business. Her words are a beautiful bookend to Kate's in episode 8. Listen to the whole episode with Kris Nations >
Episode 47 with Cam Adair – Cam is the founder of Game Quitters, offering support to video game addicts. He blew my mind with his angle on to do lists, and life "balance;" pointing out that you'll never get to the end of your to do list. It's not something any of us will ever truly "finish." So instead of making the "doing" of things his only focus, he's also working on focusing on play.  Listen to the whole episode with Cam Adair >
How can you jump start joy in your life, in the world, or in other people's lives?
It's my last question on every show, and there are a few stand out answers that are well worth repeating. Here are 14 of my favorite ways to jump start your joy:
How do you jump start your joy? I'd love to hear in the comments below – AND, come back next week for updates from the guests of the top ten downloaded shows from Season 1 (including Danny Wood!).