I'm thrilled to have Tiffany Han, creative brand strategist for highly creative women, join me for this week's show where she shares about what saying yes to creativity and doing what you love has meant in her life. Tiffany has been a life coach, business coach, and has recently segued into working as a brand strategist. And, she's the host of the wildly popular podcast, Raise Your Hand. Say Yes.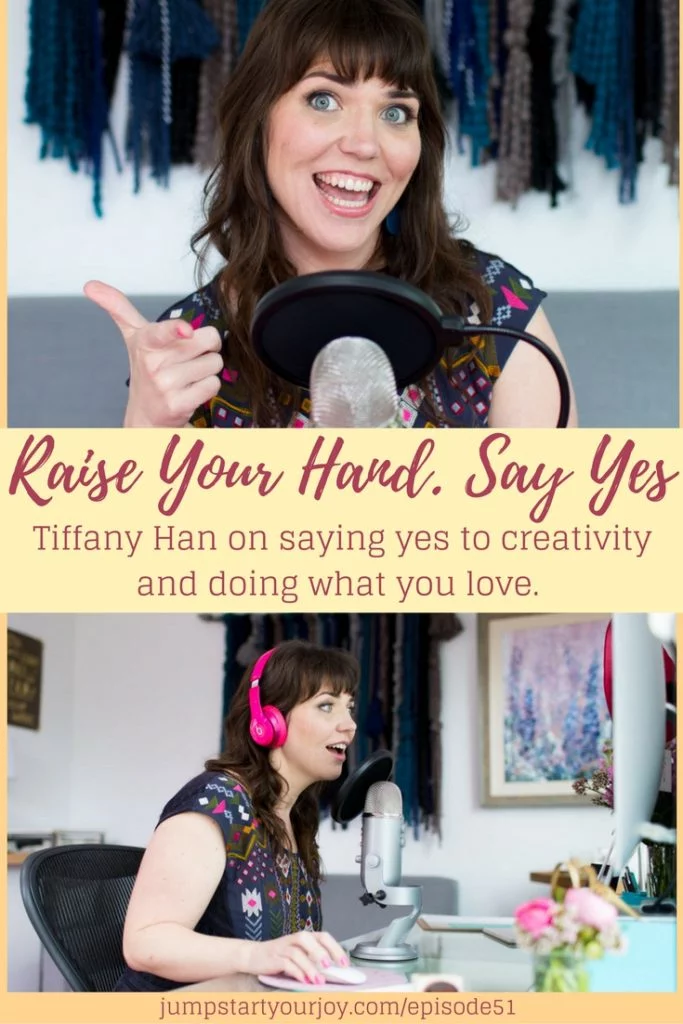 I love that we talk about branding (one of my favorite topics), and how her own work has changed over the years, based on her relentless pursuit to actively seek out work that she loves. Tiffany has a refreshing no-nonsense approach, and she just "gets it" as far as what it takes to dig in and do the work (from a coaching perspective) and sees the spiritual side of doing branding and coaching work, too. PLUS, we talk about no fewer than three Broadway musicals near the end! Which of course I just love. I'm delighted to have Tiffany be my final interview of season 1, and know that you'll walk away feeling inspired and rarin' to start your next creative endeavor after listening to this conversation (if not also googling the soundtrack for Hamilton, Rent, and Kinky Boots).
Here's what Tiffany and I talk about in this episode:
2:20 Tiffany shares her early sparks of joy: dancing, and lip syncing into a hair brush (Madonna's True Blue record was a fave), plus watching "Rags to Riches" on TV
4:00 What Tiffany does now: she's a creative brand strategist for highly creative women, and the evolution of her coaching and strategy career
7:15 Branding as an act of courage; it takes a lot say yes to a brand for yourself – and how this also comes up in my podcasting class (it's the act of putting yourself out there that is way scarier than figuring out the technology pieces)
11:00 the art of standing out, and also staying in touch with what others are doing within your field (and avoiding comparisons)
12:00 Brandcrush: Tiffany's branding bootcamp that she runs with Erin Cassidy
13:30 Branding work is hard, and Tiffany's approach to clients who get hung up on it being hard
14:40 Where entrepreneurs are stuck with marketing, and where they need help
16:45 Tiffany's take on a clean design aesthetic and what to consider when you're building your website (hint: what do you want your visitors to do?)
21:00 Tiffany's path to becoming a coach, including her time working at a non-profit as an events planner
23:00 The hard decision of going after a creative path of being an entrepreneur vs doing an MBA program
25:45 Tiffany's explanation of "crazyfaith" – having faith in something that doesn't make rational sense, but extremely powerful
28:30 Why you should start a podcast now, especially if you have that slightly nauseous / excited feeling about it
30:00 "Raise Your Hand, Say Yes" – Tiffany's podcast (which just started it's third season!) – she shares what she loves most about it
33:00 Why Tiffany loves snapchat, and the informalness of it
34:30 Tiffany's reaction to "Hamilton" and why she loves it so much
37:00 We talk about our love of the musical RENT
39:00 Kinky Boots! and Tiffany shares that she is often overcome with emotion during musicals, and well, I am too.
41:00 We reflect on how life and joy are not always about feeling great, but often about seeing what happens when you don't feel great
45:00 Tiffany's thoughts on how to bring your dream into action (do something today)
45:30 I ask my final question about how to jump start joy for the last time this season (and use the word verklempt), and Tiffany shares her wisdom.
Resources:
Brandcrush: Tiffany's branding bootcamp running October 10-19, 2016
Tiffany Han's Website
Tiffany's podcast: Raise Your Hand, Say Yes
Rags to Riches, an 80's musical documentary
Episode 50 with Kris Nations (she also shares about not getting too caught up in what other people are doing)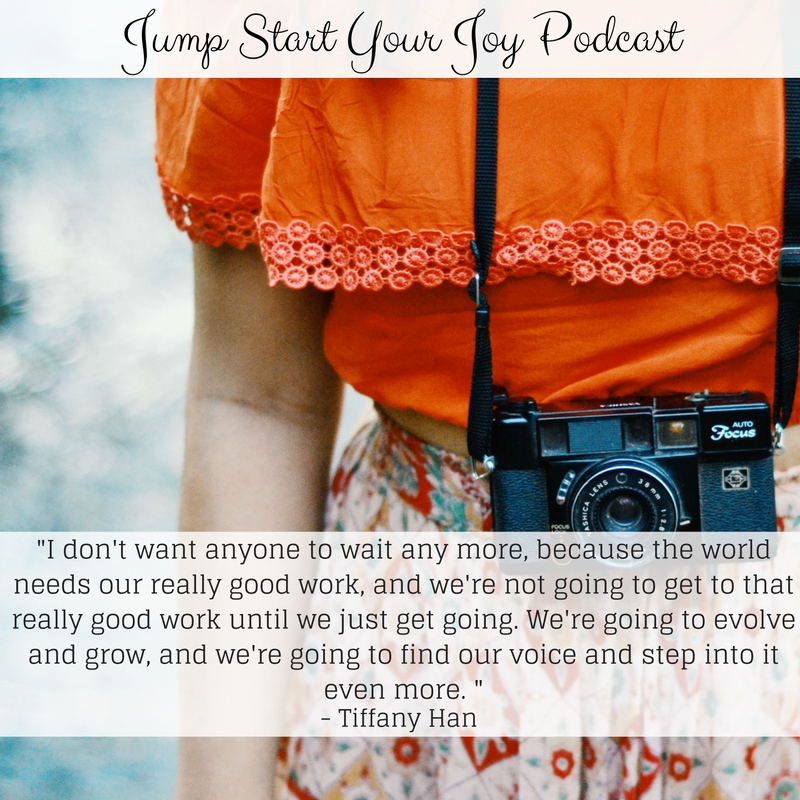 How have you said yes to your dreams?