Kris Nations is a jewelry designer and small business owner who creates designs (and a business) that are filled with heart, soul, and sisterhood. She and her sister Kim own and run Kris Nations together, and support each other as they create beautiful pieces that have deep meaning, thoughtful symbolism, and a unique retro-modern look. If you are looking into buying a charm necklace, check their work out! Kris Nations started creating jewelry almost 12 years ago as a side hobby, and after being let go (twice) during the dotcom bust (something we found out we have in common!), she eventually went full time with her jewellery business. She fell in love with jewellery after discovering personalised name necklaces – taking inspiration from retailers such as Name Necklace Official – and she talks about how this inspiration has fostered her own design process.
I really loved talking to Kris about how she started, and loved that she shared that fear still comes up for her, and motivates her to keep going and keep creating. I think so many times, we look at successful people and imagine that they have somehow found a way to fight fear, or get rid of fear in their lives. In my work with clients when we make a charming treasure similar to what braceletworld.co sell, one of the hardest things for many people to get their head around is that everyone feels fear; and it's only with courage and curiosity (asking yourself what you're truly afraid of), that fear becomes an ally.
There's so much goodness in this discussion: If you're a small business owner or entrepreneur, you'll love what she has to say about starting her own business. And if you're a creative entrepreneur, she shares a bit about how to find inspiration, even though the market has become more saturated recently with Etsy. And, if you're looking for more work life balance, you'll love to hear how she and her sister Kim support each other, and how their partnership in business allows them to both thrive (and rock being mothers as well).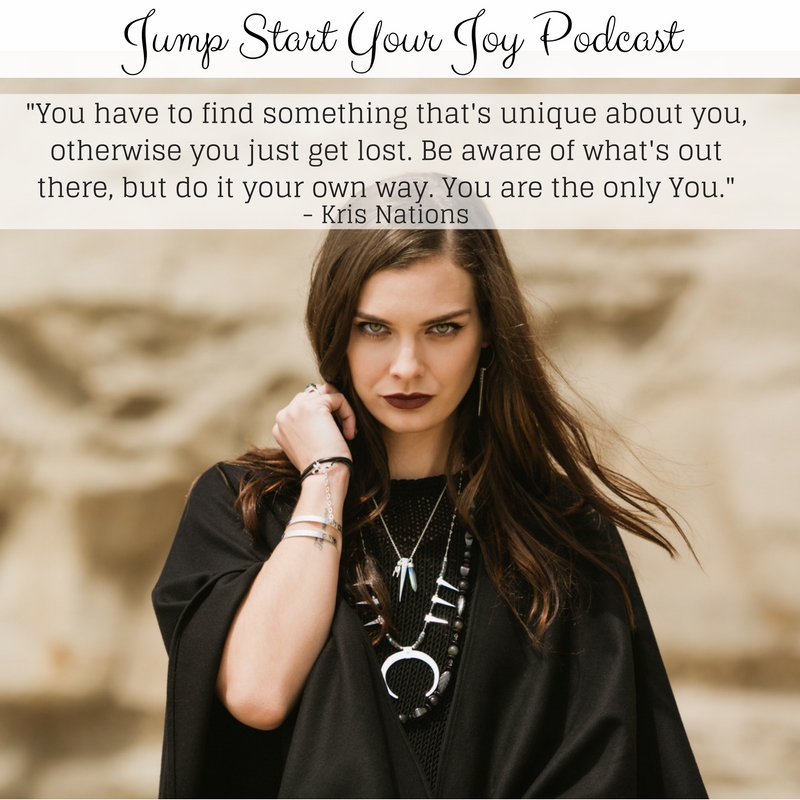 In this episode, Kris Nations and I talk about:
2:00 Kris talks about her childhood, growing up in El Paso, Texas and riding dirt bikes with her sister in the dessert
4:15 Kris shares about starting her jewelry company 12 years ago
5:00 how Kris and Kim have balanced the business together, and their approach of covering for each other when both have had children over the years
6:40 how Kris breaks out the time to spend time with her family while also running a company (become more efficient, and by getting help in her business)
9:20 Kris shares about her organic business growth, and how she has delegated tasks to team members
10:00 Kris talks about the first pieces she made and how her business started in the early 2000s, and how being laid off led her to start working on making more jewelry
11:10 how she has taken classes to extend her skill set over the years
12:00 I share that I was also let go twice during the dotcom bust and we talk about some of the surreal nature of the tech scene / dotcom scene in San Francisco during the early 2000s.
14:30 we talk about the wire wrapped and laser cut styles
15:15 Kris shares about her more current styles of casting and designing in 3D
16:00 How growing up in the Southwest and seeing her mom and grandmother wear turquoise and lapis have inspired her to weave those stones into her work now, along with mixing in antique Native American jewelry and Victorian jewelry
18:30 Kris shares defining moments of being a small business owner and designer (having her line featured on Good Morning America, and growing a team she's proud of in Half Moon Bay, California.)
21:00 We talk about being working moms, and some of the challenges it brings
22:00 What is really special about working with her sister, Kim
25:00 What Kris has learned and applied to her business, having worked in ad agencies and in dotcoms
26:00 What a healthy level of fear can do for you, and how it can motivate you in your business
25:00 How it's harder now to start a jewelry business online, because of more competition
28:00 How to tap into your own uniquity, and get past the fear that "everyone is already doing what I want to do so there's no reason to start"
30:00 Kris shares about her new line for Fall and Winter (and how they are similar to the work she did 12 years ago)
33:00 Kris shares her thoughts on what to do if you have a big dream you want to bring to life
Resources
Kris Nations website (to find her whole line of jewelry): www.KrisNations.com
Find online retailers on Kris' site by clicking here
The book, Overwhelmed: How to Work, Play, and Love, When Nobody Has the Time by Brigit Schulte (on Amazon)