This week marks the introduction of a new series to Jump Start Your Joy: the Friend-preneur Series. The focus is conversations with friends, who are entrepreneurs. Many of the people are friends I've met either through the show (and have been on before!) or through contacts in coaching. I've found that starting and running a small business is something very new to many of us, who have grown up without examples of people who are entrepreneurs in our day-to-day.
My intent with starting this series is to share friendly conversations about the realities of being an entrepreneur. You'll get a bit more of me as a participant (instead of being the interviewer, I aim for this to be more conversational), and hear how I'm approaching entrepreneurship while also being a mom, having a 9 to 5 job, and finding harmony.
Christy Tending is my first guest in the Friendpreneur series, and we met through the podcast, two years ago. I was totally delighted to get her email asking if she could join me to talk about self-care, and her program, Sacred Focus. Christy and I hit it off and within the first two minutes of our discussion, it was clear we were going to be friends. I've very much enjoyed getting to know her over the past two years; we both live in the San Francisco Bay Area, and that means that we can meet face to face for coffee, for planning sessions, and to co-work.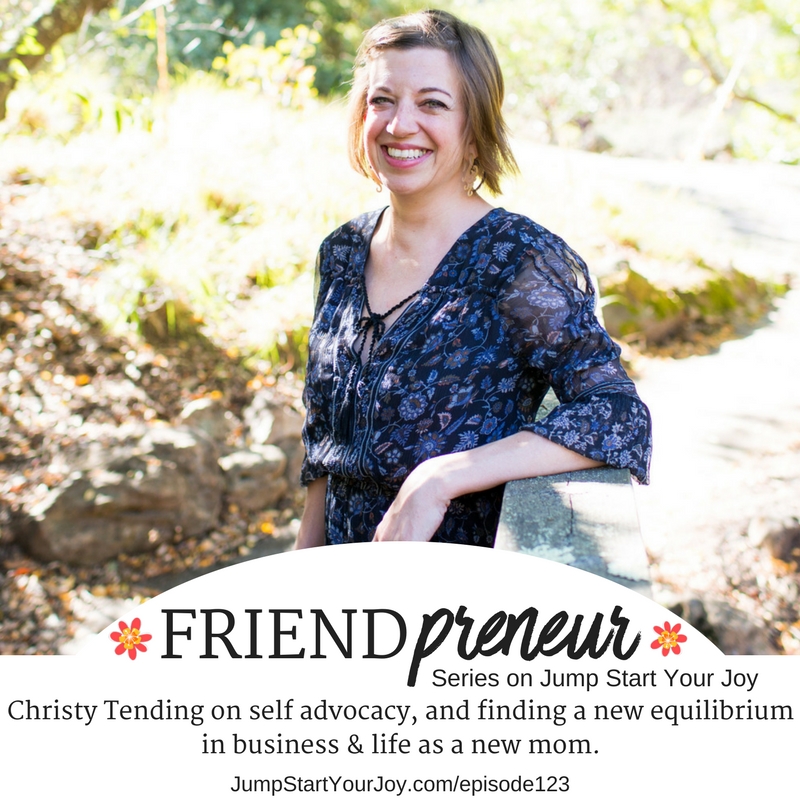 Christy joins me to talk about her business, and how it's changed since she had her son about nine months ago. Our discussion starts with Christy reflecting on "how do I be a mom, and an activist, and run a business?" We are both moms (my son is now seven) and have a great back and forth on the topic of what shifts when you become a mom (and have a growing business), and how both things can challenge you to your core, and how both are an opportunity for an immense amount of personal growth.
[bctt tweet=""Be compassionately present with yourself in any given moment and take action based on that" @christytending" username="jumpstartjoy"]
 In addition to this dance of motherhood, entrepreneurship, growth, and self-advocacy, Christy and I explore the following:
Picking the things that matter, and focusing on those
Making decisions and actions count
Being spread thin, and dabbling in things that make an impact
Getting comfortable with work, and motherhood being a moving target
Being gentle with yourself as you work through things
Being compassionately present with yourself
Finding and accepting a new equilibrium
Asking the question, "Why does it seem like everyone else has it all figured it out?"
Resources:
Sign up for Christy's "Art of Self-Advocacy" Class (starts October 18, 2018)
Christy Tending's Website
Christy's Sacred Focus Program (now open for enrollment)
Christy on the podcast:
Season 1: Episode 25: Self Care and Sacred Focus
Season 2: Episode 54: Finding Balance, Gaining Roots and Wings
Season 2: Episode 62: Daring to be Courageous, Vulnerable, and Human
Want to listen to more episodes?
Binge away, my friend: