It's a true pleasure to have Flylady Marla Cilley back on the podcast for her third episode, this time to talk about how we can form habits and routines to create more joy in our lives. The last time I spoke with Marla, she shared about her work at Flylady.net, and we agreed to regroup closer to the end of my first season to talk about habits and routines. Whether you go back to listen to Episode 18 and 19 to catch up with the conversation, or not, I know you're going to love this episode.
What I really like about Marla's approach in her program (or ministry, as she calls it), is that she bases it on creating smaller habits, which put together, help to form and support routines that make doing daily tasks easier. She helps outline a new habit to work on each month on her site, and once you are through the whole year, you have a new set of routines for your day that will lead to more joy (because you'll have taken care of the basics of taking care of yourself and your family and home). I really love the philosophy and cognitive therapy that is woven, very authentically, into her program. Marla and her humor, and her motto of "Find Joy in Everything that You Do" have had a profound effect on me, and I'm really honored to get to speak to her again.
In this episode, Flylady Marla Cilley and I talk about:
4:15 Marla talks about the mission and ministry of Flylady, which is helping women find meaning purpose out of chaos
6:00 Marla shares her personal motto: "To Find Joy in Everything I Do"
7:00 a fun way to clean floors with children, and why cleaning shouldn't be used as a punishment
10:00 Marla explains how her program and "Finally Loving Yourself" works, and what to do if you think you don't have time to do something
11:30 how to use regular tasks (like making coffee) to piggyback other habits and make them easier to remember and complete
12:00 Habits, and how they work
13:00 How "sidetracked" people tend to get caught up in perfectionism
14:45 turning ADHD into an asset instead of a liability
17:00 How building habits, one on top of another, help people from getting sidetracked
19:10 Marla's before bed routine, and how she remembers each item
21:00 Perfectionism, and "Stinkin' Thinkin'" – which takes its queues from Cognitive Therapy
23:00 How to approach big projects with a mentality of doing one thing at a time, and making it part of your daily work by going into "Project Mode"
27:00 Ways to make tasks go faster by making them fun (listening to books, playlists, music, podcasts)
28:30 The way rewards and celebrations fit into life
29:00 Why we don't rest, and the story of the logger
34:00 How multi-tasking is ineffective
36:00 The Flylady way of purging a closet and de-cluttering your house(don't start by pulling everything out of your closet, it's overwhelming)
41:00 How to approach de-cluttering something, even if you are sentimentally attached to something (and want to get rid of it)
42:25 What to do with baby items, after your child is no longer a baby, while still letting the child be a part of the decision making process of what is kept, and what is donated
45:00 Other ideas on making keepsakes out of mementos
49:00 A fun way to help divide work around the house, or for setting up for a party (it's like Bingo!)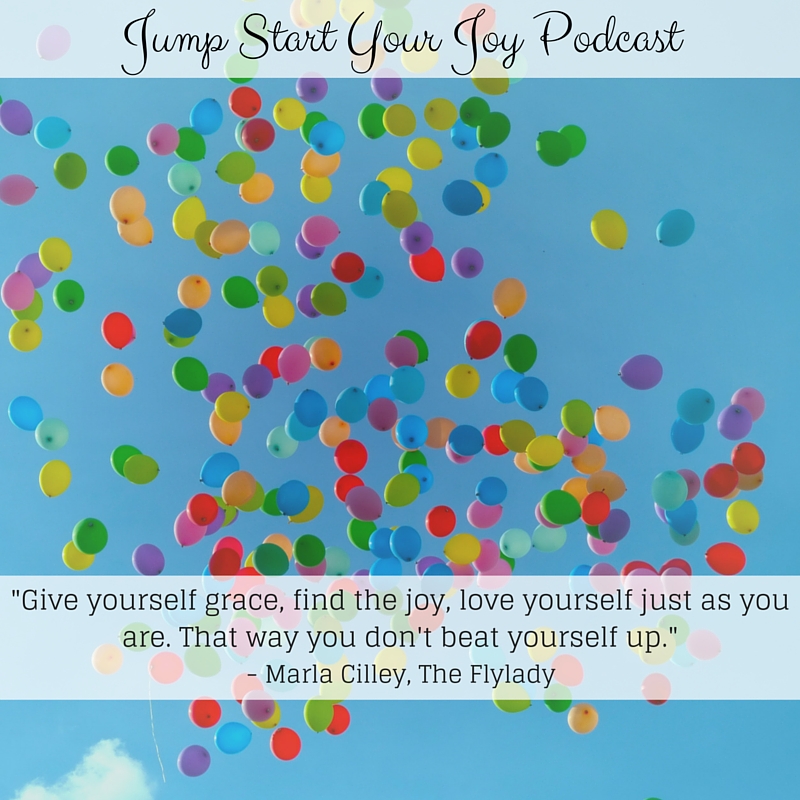 Resources
Flylady.net – Marla's website
Episode 18: Flylady Marla Cilley on Finally Loving Yourself
Episode 19: Flylady Marla Cilley on "Finding Joy in Everything You Do"
Jerry Mills' website: Singer and song writer (who wrote about having ADHD)
David Burns, The 10 Types of Stinkin' Thinkin'
Marla is the author of "Body Clutter," and "Sink Reflections," both are best sellers, and I can not recommend them highly enough.
Sink Reflections – Marla's first book (on Amazon)
Body Clutter – Marla's second book (on Amazon)
What kinds of habits or routines do you have to help you through your day?