Sharon Aldeguer is an inspiration, and a beautiful example of embracing joy and living your bucket list after brain surgery. Several years ago, she had brain surgery to remove a brain tumor found by her neurosurgeons, and before she went through the surgery, she promised herself that "If I survive the surgery, I'll go ahead and live my bucket list." Her courage and humor and love of life is contagious, and I'm so excited to have her on the show.
Brain surgery is a scary experience, but methods have improved over the years. Radiotherapy is now less damaging than it used to be, improving both quality of life and the chances of survival. You can find out more about these alternative methods of surgery on a site like amethyst-radiotherapy.co.uk.
Since recovering, Sharon has moved to Hawaii and followed her heart to start doing work that lights her up. When she and I first met, we both worked in advertising, with Sharon in finance and me in project management. Sharon has returned to her love of design and the creative arts and now works on programming, has her own company, also works for a start-up, does bodybuilding, and has worked as a trainer as well. If you would want to start it off on your own bodybuilding journey as well, you could view the site to get an idea of supplements and research on the kind of exercises that you could do. This could help you a lot in your own journey.
She has hopes of opening a not-for-profit to support women and girls in following their dreams in technology. She's an inspiring individual, and I loved talking to her, and catching up about what her life has been like since we worked together.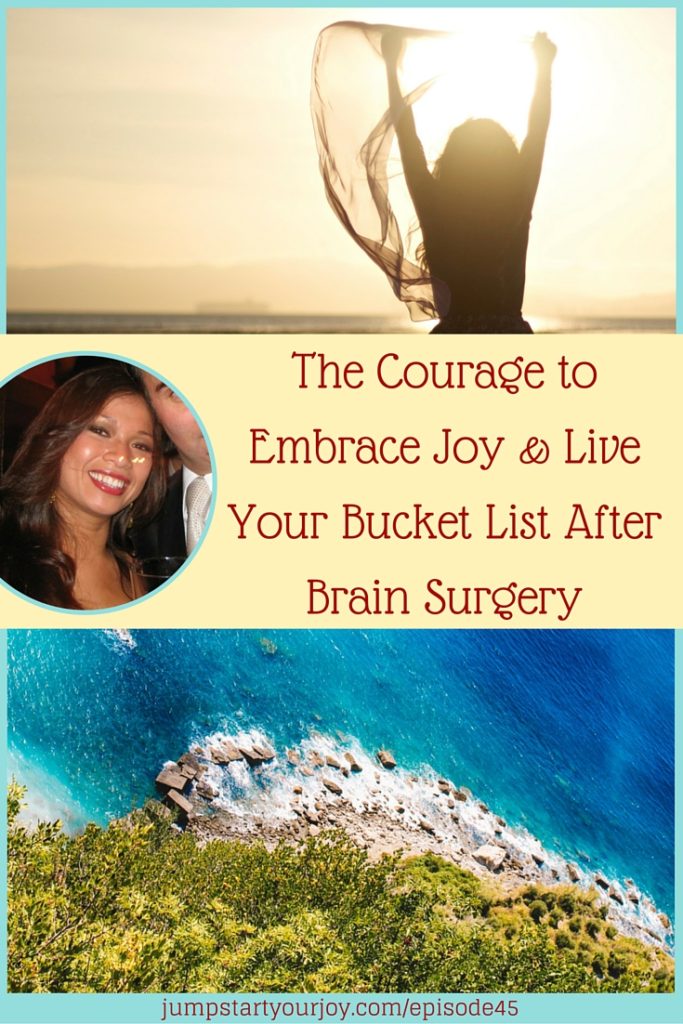 [bctt tweet=""If I survive the surgery, I'll go ahead and live my bucket list" #podcast #interview" username="jumpstartjoy"]
Here's what Sharon and I talk about how you can live your bucket list after brain surgery:
3:45 Sharon's early sparks of joy, growing up in a large family, and going cherry picking with her sisters, school and learning
6:30 a prank that Sharon played on her older sister involving a ham sandwich
7:00 a new category is introduced on Jump Start Your Joy: bad smells in houses
7:55 what Sharon does now (programmer, project ninja, start up employee, entrepreneur) in Honolulu, Hawaii and what a giant shift this was from her life two years ago in San Francisco doing finance and accounting
8:40 Sharon talks about having a brain tumor, and the surgery she had to remove it, and how it changed everything in her life
10:00 why she was released from intensive care after only a couple of days
11:55 her experience of re-Learning to walk again after brain surgery
12:55 the reconstructive surgery Sharon went through after brain surgery to reconnect her facial nerves
15:00 Sharon's journey, moving to Hawaii from San Francisco and how that worked
16:00 how Sharon and I know each other
16:35 Sharon talks about how working in finance felt like it was stealing her soul, and how she has since been following her calling to do work she loves
20:00 We talk about how working in an advertising agency ultimately brought us to a place where we were questioning our integrity
21:00 how our new ventures feel so much more fulfilling and like play, and we lose track of time during the day as we work
22:55 Sharon's advice for people wanting to work on fitness, even if they are not motivated, and her motivation for body building
26:10 Sharon's dream of starting a non-profit for young girls in technology in Hawaii
31:55 Sharon's advice on bringing your dream into action (hint: get clear on why you want it and research)
35:00 Sharon's thoughts on three ways of jump starting your joy
Resources
Listen to the episode with Liz Ross, who was the president of the ad agency where Sharon and I met
Sharon Aldeguer on LinkedIn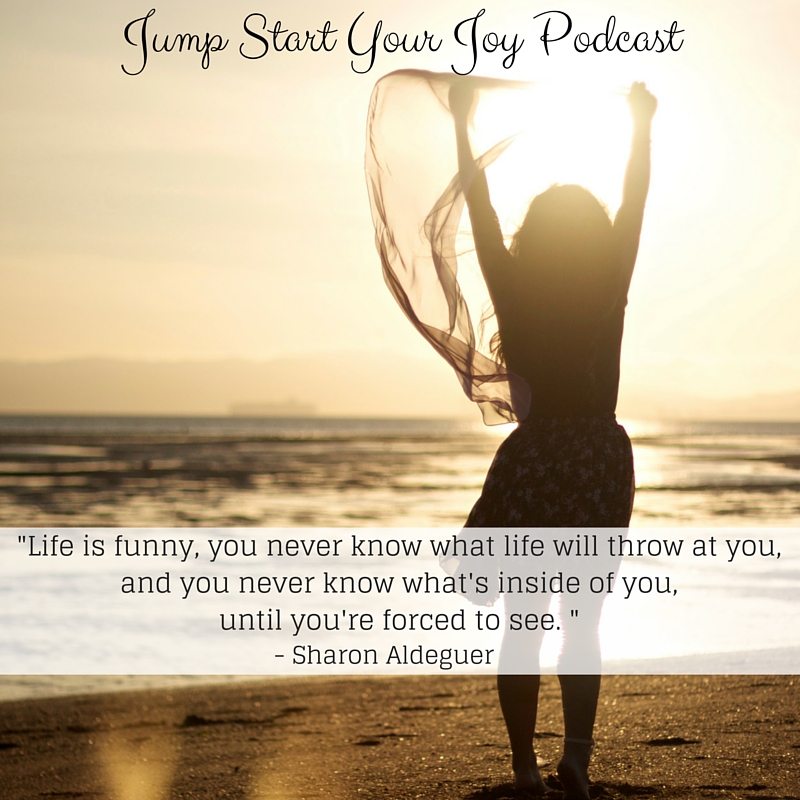 What changes in your life have made you follow your dreams?
[convertkit form=4905953]