This week, I share five ways to add more joy to your life – all coming from a possibly unusual source. If you have been following my for a while, you'll know that Jump Start Your Joy is my second blog (third if you count an anonymous one I started in about 2004 and is now gone). Over the last year, I have moved my original blog (Welcoming Spirit, which originally was on blogger) over to it's new home, here. I hope you enjoy my suggestions on five ways to add more joy to your life.
And, as of June 1, 2016, Welcoming Spirit will be put to rest. Today's podcast counts down the top five viewed posts from my old blog, and, it just so happens that each post also highlights a top 5 way to bring more joy into your life. It's a fun mix of ideas to add joy to your life, and revisit some of my favorite posts.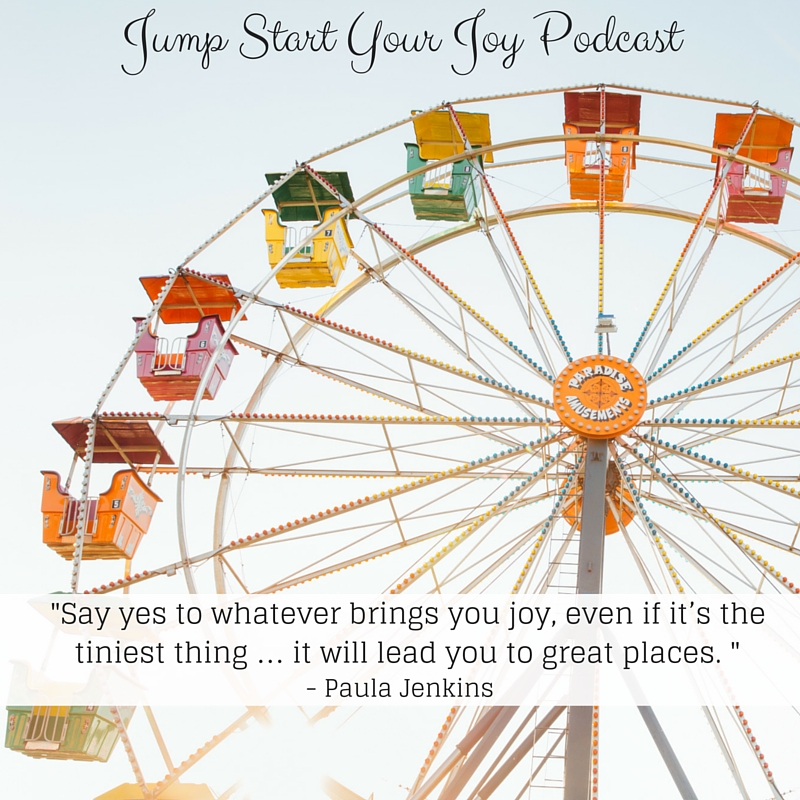 On this show, I'll chat about my journey with my previous blog, and what some of the pivotal life lessons I learned during it's eight years, while looking back at the top 5 viewed posts. It's amazing what sharing bits of your heart and soul do (see numbers 5, 4, and 3 below); what going viral can do to one post (it's all about being timely, and offering value), how sharing a passion online (in this case, retreat planning), can add up to lots of views. In looking back I used views to help narrow down topics that seem to have resonated with a wider audience. There are lots of posts that I love that didn't make this list – but we can touch on them another day.
The top five posts (now all on this site are):
5. Make wellness and self care a priority (post: Let's Talk About Migraines)
4. Honor and make room for love in your life (post: A Wedding Prayer)
3. Look for places to be grateful (post: A Love Like That Lights Up the Whole Sky)
2. Surround yourself with amazing people (post: How to Create A Homemade Ugly Christmas Sweater)
1. Say yes when you get that feeling of being both excited and terrified (post: How to Plan a Retreat)
Resources
Episode 21 with Liz Ross
The Power of Intention by Wayne Dyer (on Amazon)
The Gift by Hafiz (on Amazon)
How do you create joy in your life?