Year after year, this post gets a lot of visits – join in and learn how to create a homemade ugly Christmas sweater! Seeing as there has been a lot of love around this post, for Ugly Christmas Sweaters, I thought I'd give you all the step by step on how I made mine. It's easy! And fun. It might actually be a really cute project for the kids if you substituted the hot glue gun for some Elmer's or craft glue.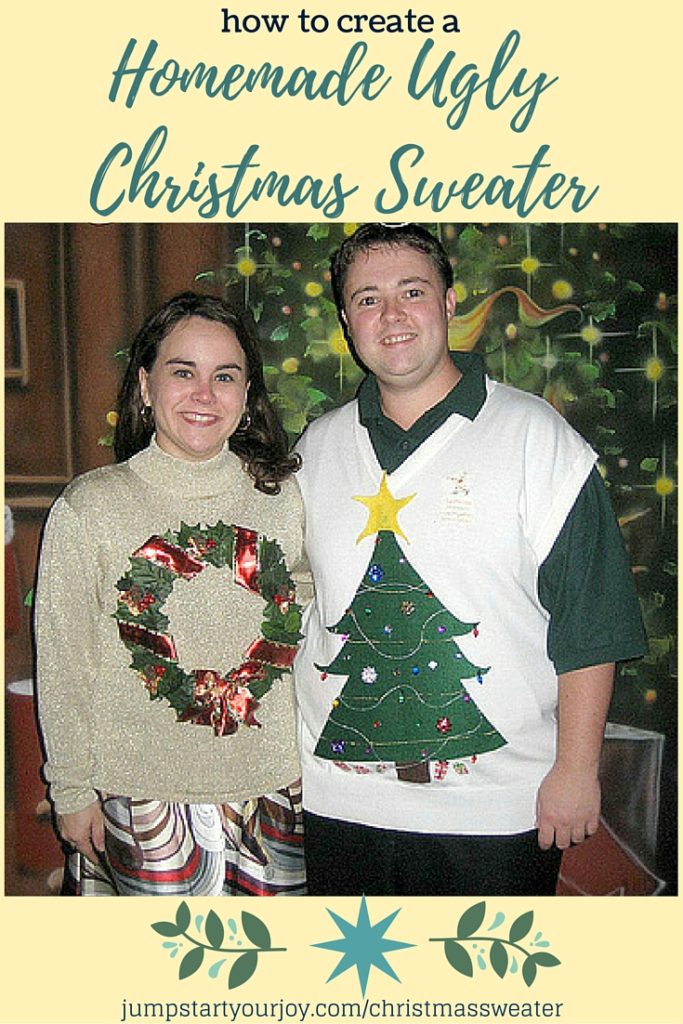 My goal with this project was to make something I could wear, likely once or twice, to a holiday party. I had no grand ideas that this would be a keepsake, or that it would be taken seriously. In fact, the goal was for it to be funny, and the tackier it got, the better. So, how did we do it?
1. Buy a sweater from Goodwill. Solid colors work best, this gold one from Talbot's (at about $5) happened to be what I picked. I think a sweater vest, or a cardigan also has a lot of potential. I recommend that you wash your sweater when you bring it home from Goodwill.
2. Decide on your design. Simple, iconic Christmas items work best like a wreath, snowman, stocking, tree, Santa, or a candy cane. You want something that's easy, and not too detailed. You may want to find a picture of what you're going for on the internet (try Flickr). Decide on colors
and sizes. The idea is that you will make the base of your design on felt, and then attach it to your sweater later.
3. With your design in mind, head to the craft store. I went to Michael's, and knew I needed:
For the wreath: green felt, a metallic ribbon for the wreath, some holiday leaves, and some extras like small pinecones, and berries.
For a tree we picked up: green felt, some glittery garland from the ribbon area, and then from the small craft area we got some small lights, bows, fake gems and package stickers.
4. Create your Christmas item. For the wreath:
– I started by making a circular base with felt, by tracing a dinner plate for the outside, and a bowl for the inner portion.
– After I cut out the base, I cut all of the leaves off the holly decorative flowers I bought at Michael's, leaving the berries to the side for later.
– Using a glue gun, I attached the leaves to the base.
Once the base was covered in leaves, I started putting the ribbon on.
– To get the effect I want, I cheated a little by cutting the ribbon in smaller strips, and attaching each portion separately on the back with the glue gun.
– The bow was done last, and I created it on its own and glued it on after it looked "just right."
The finishing touch was the berries, which I cut off of another floral assortment I bought at Michael's.
– I made groupings of three (berries, pine cone, leaves) and hot glued each on the wreath.
– Little berries and gems were added around the bow.
For the tree, the steps were more simple:
– create the shape you want for the tree and its star on a piece of newspaper and use as a pattern, tracing the shape onto the felt and cutting accordingly.
– add in the garland to break up the shape itself
– hot glue "ornaments"
– hot glue a brown base and the yellow star
– affix present stickers around base of the tree
5. Lightly sew your newly Christmas item onto your sweater. (This is another place kids might need some help from an adult.) I tacked each item about 4-5 times, using about 3-4 stitches. The idea is to make it stay in place, and anchor it to the sweater. This allows you to remove it later for washing if needed.
6. Wear Festively!
The whole project, for two sweaters, cost between $20-$30. The good news is that we'll wear the sweaters twice, I hope this year. And, the left over ribbon and craft supplies will be used in our decorating. Some of the garland was already used in my cards for the season.
Good luck, and Happy Holidays!
After all that, you'd prefer to just buy a premade sweater? why not check out these lovelies?