Jonni Pollard is a meditation and wisdom teacher, with his teachings stemming from the Vedic tradition. He's the author of "The Golden Sequence," co-founder of the 1 Giant Mind Learn Meditation course and the 1 Giant Mind Teacher Training Academy. As a true multipassionate, he's also been an actor, and an avid skateboarder and runner. Jonni now works with corporations, individuals and at events teaching others how to "get into the highest state of love to connect to our humanity." It's an honor to talk to Jonni Pollard on how to Awaken to the truth of who you are.
The Inspiration of the Four Golden Insights
I truly enjoyed getting to speak with Jonni, and felt myself sinking into the conversation in a deep way. One of the most inspirational parts of the discussion for me was when we walked through the Four Golden Insights, which are the pillars for the work Jonni does.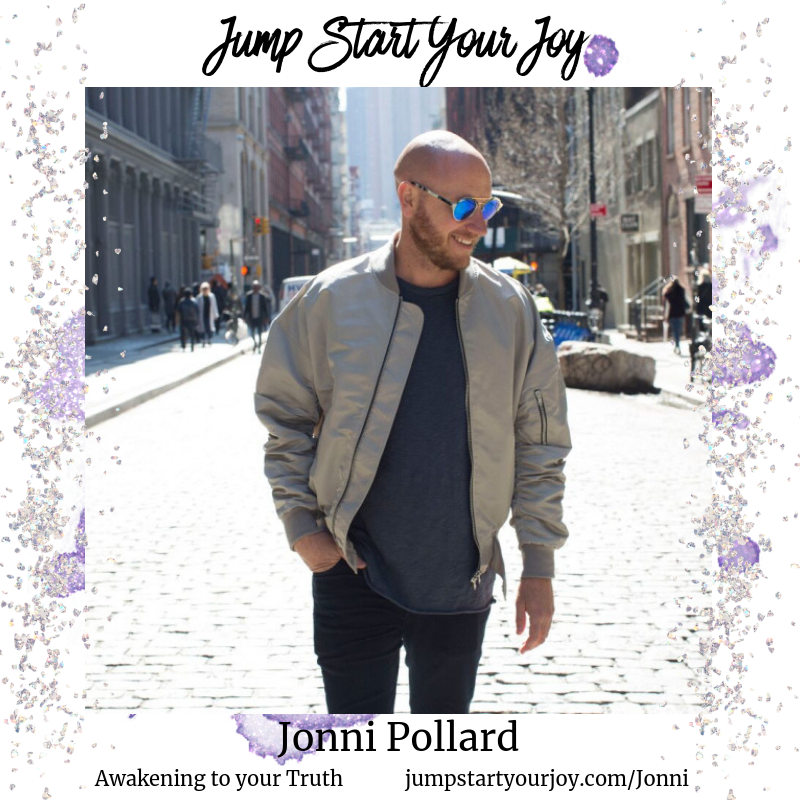 Life is Sacred

Love is our Nature – we serve, nature, and find connection

Wisdom is our Power – Jonni talks about finding the intelligence of love, and reconciling the appearance of resistance and opposites.
We also talked about "embodied leadership power, which equals the ability to influence the environment around us."
Wisdom can enliven and awaken the truth of who we are
4. Fulfillment is our Purpose – we find our purpose by fully understanding who we are
Jonni Pollard on How To Awaken to the Truth of Who You Are :
His earliest sparks of joy as a child – playing with other kids, playing games, and any kind of games where he could evolve and find excitement

Being a multipassionate, where he reflected that he felt that the many different things he enjoys in his life are all just different ways that his soul and purpose is revealing itself

The filters that we use from the outside looking in, and how it changes the way we see ourselves

The desire of creative beings to become expressive

Our conditioning as children and the pervasive ideology that we learn as young people

How adopting and conforming to social ideals causes immense suffering

The four golden insights that set the pillars for the Golden Sequence

What happens when energy does not flow naturally

The dissonance that fear creates

Why we need to connect to our purpose and our humanity

Jonni's thoughts How to Jump Start Your Joy: wake up and connect to the world around you, meditate for success and to affirm your humanity, and to show your best connected self to whomever you first have contact with in the morning
Resources
The Golden Sequence by Jonni Pollard on Amazon