Today's interview is with Mary MacCarthy of Glorious Hugs. Mary is the CEO, founder, and hug liaison at Glorious Hugs, a company that creates beautiful and joyful caring packages for older persons. I was immediately touched and inspired by Mary's mission with her company, which was named after her grandmother, Gloria. Founded in 2015, Glorious Hugs partners with local Twin Cities artists to create unique, custom gifts full of engaging elements to send to seniors. The idea is that when you choose a gift for your loved one, whether it is a photoframe or a Coussin Personnalist©, there are also other items for them to interact with. From a handwritten note, poems, discussion questions, a blank stamped postcard to mail, and cookies, the package is filled with things to inspire, to share with others, to inspire conversation, and to spark deeper connections. The idea all started with Mary digging deep and crafting a business she loves, based on her experiences with visiting her grandmother as she grew older. I hope you'll enjoy this episode about creating connection with glorious hugs with Mary MacCarthy.
I really enjoyed meeting Mary; her sense of connection, of truly wanting to embrace each person and each client is inspiring. Connection is truly at the heart of her business, the connection between gift giver and recipient, the connection Mary has with each gift (she transcribes a personal note to the recipient), and the connection Mary maintains with the artists that make the pieces that are available. There's a lot of love in each aspect of her inspired business.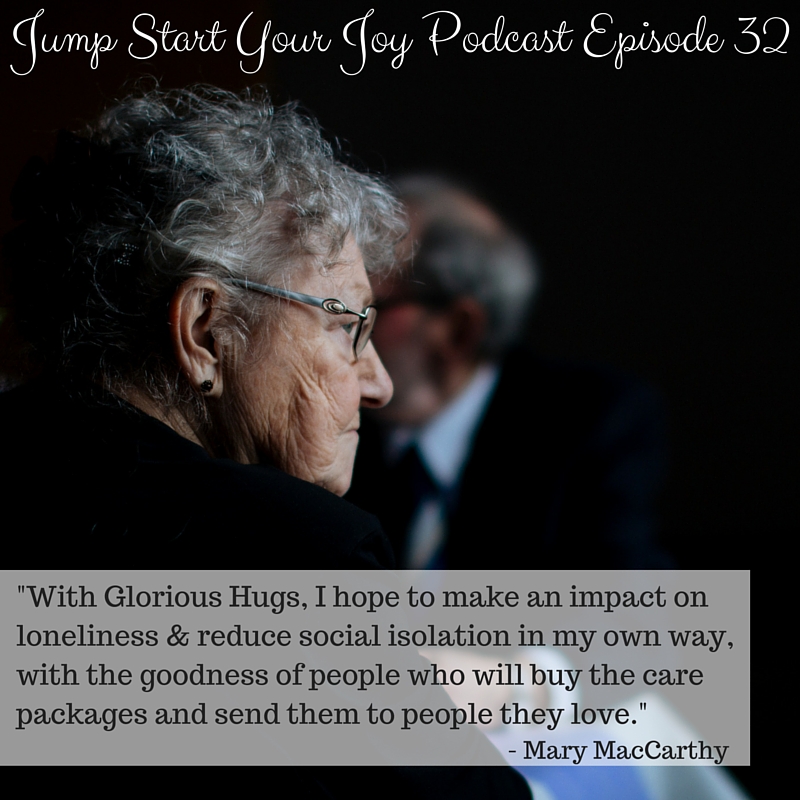 In this episode, Mary MacCarthy talks about:
(3:10) Mary's sparks of joy as a child, including flying up and down the East Coast with her parents and exploring the ocean
(4:00) Her current, growing business, Glorious Hugs and how she decided to create this specific business model (making a list of passions and creating a business model around that)
(5:00) How her relationship with her grandma, Gloria, inspired the business, based on the visits she would make to see her. She and her daughters loved their visits, but found they'd run out of things to talk about with her. Wanting to solve this was part of the inspiration for Glorious Hugs.
(7:00) New sources of inspiration to start conversations with seniors, and the questions that come up with visiting an older person out of having a new piece of art.
(8:10) How Glorious Hugs works (you get to pick a piece of art and Mary helps build a package for your loved one around it). They include original art, poems by a local poet, baked goods from a local bakery.
(10:00) How Mary's background in medical devices and marketing helped prepare her to create Glorious Hugs.
(11:00) The impacts of depression, loneliness, and social isolation on seniors, and how society can do a better job of supporting seniors.
(12:10) The beauty of seeing so much love in the world, and getting to write the notes for each care package.
(13:00) A special memory of one gift being sent from a son to his mother, who was a former school teacher.
(14:30) The way that connection became a cornerstone for Glorious Hugs and the work Mary wanted to do with her business.
(16:30) The nature of all of humanity being connected, together, and supporting one another.
(17:00) The balance of each person choosing the respectful and loving thing to do in a larger society, even though we are bombarded with negative events, people, and messages throughout the day.
(18:00) How Mary selects the artists that she works with.
(19:20) Specifics on why the artists she works with really love working with her, and how the partnership creates a win for all parties.
(20:30) Touching stories from the artists, and the older people in their lives.
(21:40) Mary's inspiration for the series of videos on YouTube, introducing the artist she works with.
(22:40) How we are both "huggers" and why we love giving hugs.
(24:00) How choosing joy is a risk, it can be hard, and choosing joy doesn't mean that we're making a "simple" decision
(26:00) Mary's experience of a joyful bike ride through the streets of San Francisco, and how she recognized, in the moment, that she was filled with joy.
(27:00) the unstated societal "rule" that we shouldn't display our joy or happiness "too" much
(28:00) The new ways that people are facing stress, from seniors, to college students
(28:45) How to deal with stress if you're feeling it, right now
(29:30) How to minimize that "layers of who you are" and how that makes interacting with other people much easier, and makes it easier for you to follow your joy
(30:00) In looking at authenticity, re-considering the company you work for. Are you "on the right bus"?
(32:45) Mary's thoughts and advice for brand new entrepreneurs, looking back on her first year on this journey.
(34:00) How you can help or reach out to the elderly: Check in on them, get involved with non-profits that help the elderly.
(36:00) The growing trend of needing more senior care nurses, as the elderly population grows and moves into care facilities, and the impact on society.
(38:00) Be the change in your own neighborhood, and make connections.
(38:40) Ideas on how to celebrate your Mother on Mother's Day.
(40:30) Mary's thoughts on how to bring your dream into action.
Resources
Glorious Hugs Website
Glorious Hugs on YouTube
Courageous Living Coach Certification
Episode with Dr Aimee