David Ramos is the author of of four books, with one more coming out next week. He's passionate about the stories of the Old Testament, and bringing them to life for the modern reader. This week's episode holds a special place in my heart. David originally contacted me about reviewing his book, and I wrote him back and asked if he might like "to nerd out over the Old Testament on my podcast?" And, he accepted. I hope you enjoy this interview with author David Ramos on finding hope and truth in the Old Testament.
The Old Testament Offers Inspiration for David Ramos
We talk about the Old Testament, our favorite books and stories, and how these tales are still so very relevant and meaningful in today's world. I think you'll love how we weave in references to Marvel comics, zombies, and race cars as we talk about the truths and the hope that is carried in this ancient book. We laugh a lot, we both jam on what we love most about studying "the OT (Old Testament)" and I am sure you will be entertained and learn a thing or two in this interview.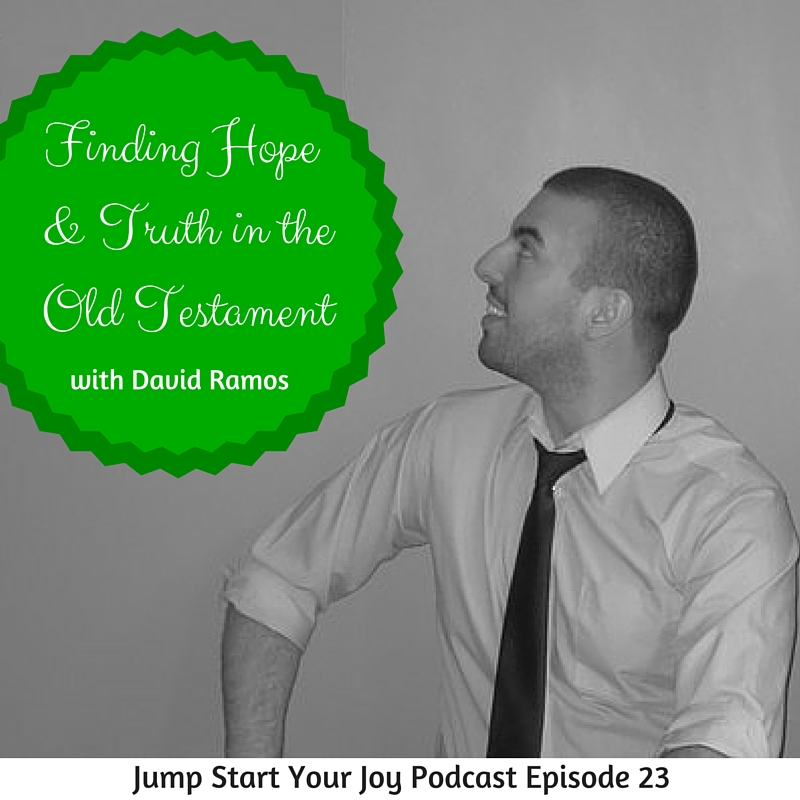 In this episode, David and I talk about:
– his early passion for cars and engineering
– how one college professor changed the trajectory of David's education and career path
– why we both love the Old Testament
– how someone who may think of the OT as dry or boring might approach the book in new ways
– what zombie and apocalypse stories have in common with the Old Testament (and, what they don't)
– stories of the fantastic Super hero stories and how they relate to the heroes in the OT
– how the stories in the OT are ones that hold meaning, truths, and hope for people today
– what the story of Job means to David, and why it's placement in the larger OT is important
– how we can relate to the God of the Old Testament, who often is seen as an angry, grumpy leader (and how God is really not that way in the OT)
– how the relationship with God and God's people changes through the Old Testament and into the New Testament (it's an evolving relationship).
– the confusing story of Dinah and what it might mean (we both have a point of view on this)
– a great place to start in the Old Testament if you're wanting to get to know it better
– how to bring your dreams to life
– my favorite line in the Bible (which may surprise listeners)
– David's take on how to jump start your joy
Resources
David Ramos' Website
Enter to possibly win a copy of his book, Climbing with Abraham (and you'll get a free download of Dreaming with Joseph)
Climbing with Abraham by David Ramos
The God with a Plan by David Ramos
Escaping with Jacob by David Ramos
Twentyfive: Treasures from an Unusual Millennial Life by David Ramos
The Shadow of Gethsemane: An Easter Poem by David Ramos
The Red Tent by Anita Diamant
Read Abraham: Genesis 12-38
Read the story of Dinah in Genesis
The Book of Ruth
The Book of Job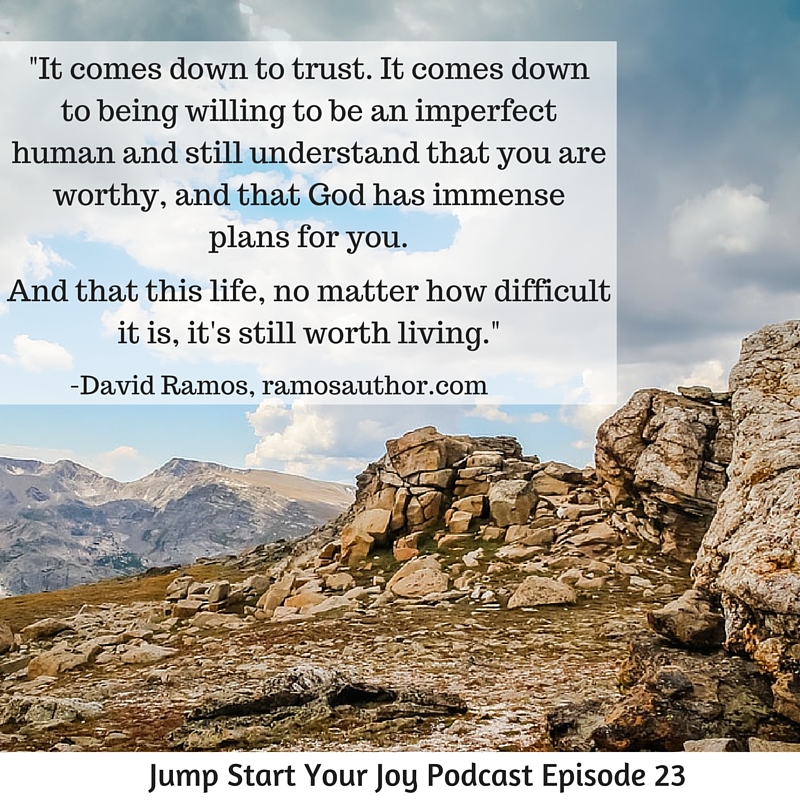 How and where have you found hope and truth in your life?