Brooke-Sidney Jackson is the founder and CEO of "Bella and The Babe," a website that has
resources and support for authentic mothering. She is the author of the brand new "Mama Love Planner" and offers Joy and Empowerment sessions for mothers, and women hoping to become mothers. In the past, Brooke-Sidney has been a lawyer, a journalist, and she now works full time for herself, encouraging, guiding, and offering support to other women. Join me as I talk about Authentic Mothering with Brooke-Sidney Jackson.
How to approach Authentic Mothering
I sensed right away that Brooke-Sidney and I had so much in common. We met a few years ago, when we were both leading (in)courage groups and discovered we lived only 30 minutes from each other. It has been a complete joy to catch up with her on this podcast episode. I think you will love her wisdom around so many hot mama topics, and her very loving and sensible approach to how to listen to what YOU want as a mother, instead of listening to what others think is right for you and your child, and your family. I walked away feeling more empowered, more focused, and ready to be more authentic in my own mothering choices.
In this episode, Brooke-Sidney Jackson and I talk about: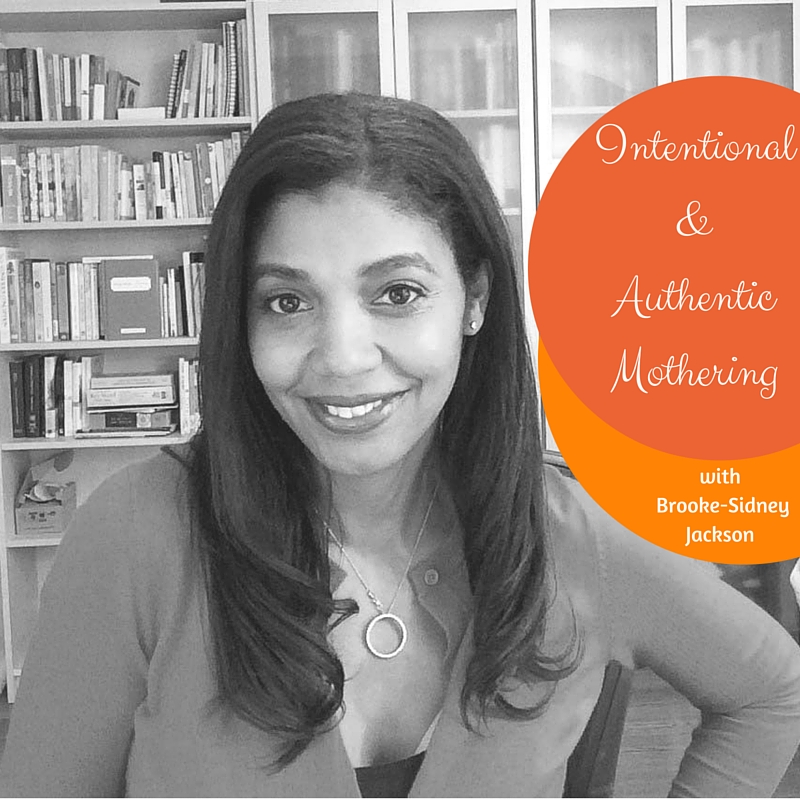 – getting away from making mothering decisions based on what other people say, and focusing on what feels right to you
– how to deal with some of the hot mama topics of breast-feeding, cry it out, male circumcision, co-sleeping, car seats in a way that feels authentic to you
– that it's OK to change your mind on parenting techniques, or change or direction as your child grows
– the major changes that mothers go through from the beginning
– the importance of self care for moms, and how self care can take just 15 minutes a day
– that going after your dreams and goals is even more important once you are a mom, as it sets an example for successes and how to handle failures for children.
– our hopes and dreams for our sons' generation
– how Brooke-Sidney created her own Mama Love Planner, after not being able to find a planner that assisted with both scheduling and self care
– the impact of a gratitude practice: take stock of at least three things that you're grateful for each day, a practice that goes hand in hand with bringing more joy and contentment in your life
– why putting your dreams down on paper helps you reach them, and why doing a brain dump helps free up room in your head to do other things
Resources:
Order your Mama Love Planner on Brooke-Sidney's site – click here.
Visit Brooke-Sidney Jackson's website: Bella and the Babe
San Damiano Retreat – set up your personal retreat and request spiritual direction