Welcome to the Season 6 kick off! I'm really excited about this season, and for diving into the focus, which is all about Finding Joy in the Messy Middle.
So much of what we knew to be true at the end of 2019 has been thrown into disarray. Our lives have changed, and, in a recent New York Times story they suggested that the last 6 months the world has had so much change that it's the equivalent of five years worth of change.
And, what's hard for many of us about this time is that while we know we are in the midst of change and so much turbulence, we don't know when or how it will begin to feel "normal" again. In that same New York Times article, they suggested that when things do calm down they likely won't really look "normal" in the way we think they might.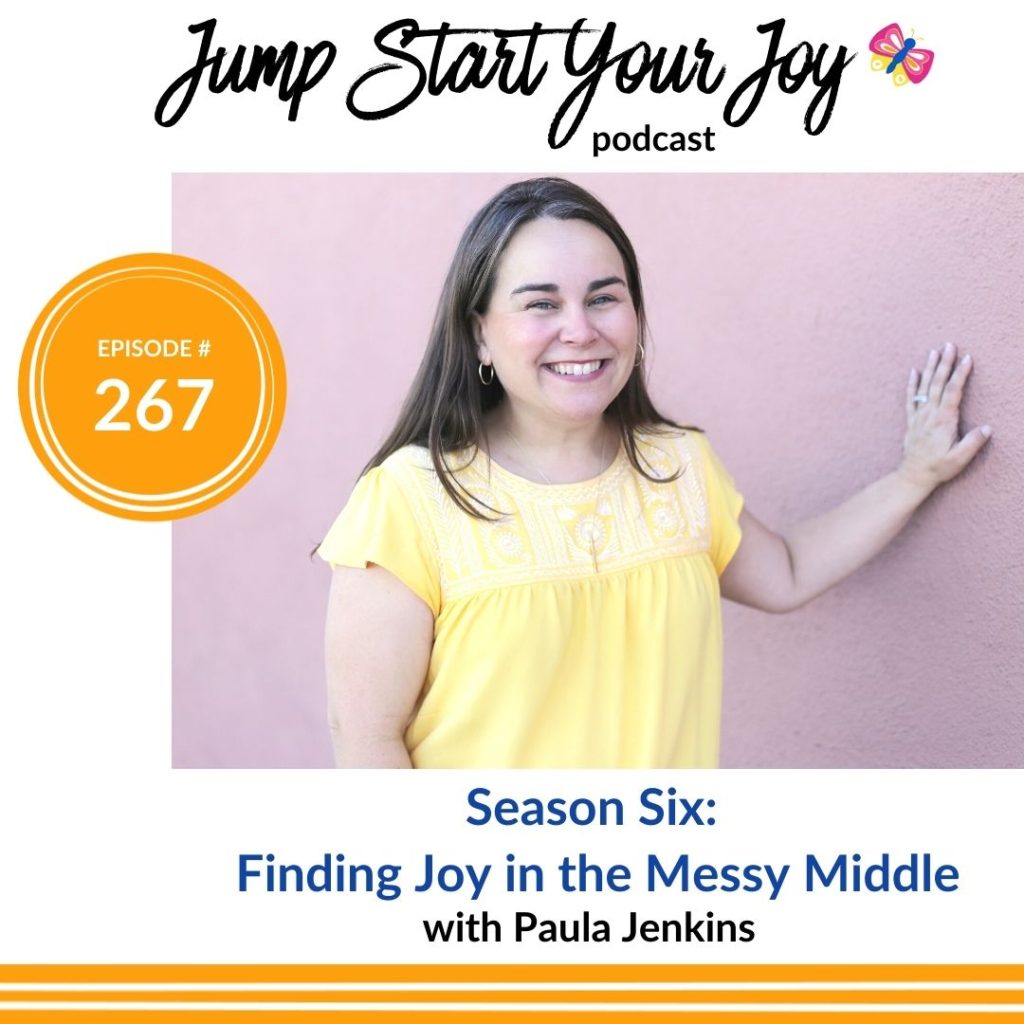 Don't Judge The Middle
So what do we do with this time? It's what I'd call the "messy middle." This is a term I can't take credit for; I first heard it being used on the home improvement blog, Young House Love. In this post, 8 years ago, Sherry Petersik shared about her approach on several of the projects she and her husband John had been working on. They noticed that when they got to the middle of projects, stuff got a bit wonky … but when they kept going and let things take shape it all ended up making sense.
"We have just learned not to panic, to be patient, to have faith, and to keep moving towards a more finished stage since that's usually when things finally come together (or when it's a lot more obvious what will solve the issue – like repainting a wall, changing the layout, switching out some chairs, etc). In the middle it truly is nearly impossible for us to see what's wrong or what's right, so we like to let things shake out since it's usually waaaay clearer a little later in the game when the room comes back together and enough balance and order is restored to fully get "the whole picture" instead of judging a half-baked makeover that's only 47% complete." – Sherry Petersik
The Messy Middle in the Bible
There are also many examples of this kind of messy middle in the (stick with me) Bible. The Israelites, Jesus himself, and many others go on journeys into the wilderness. The wilderness is a great representation of the messy middle. It's where you get to look at things with fresh eyes, spend time with what's been going on and weigh in your mind, and you come out on the other side a changed person.
In all of these situations, the messy middle (or the wilderness) provide the backdrop for transformation. It's where the hard stuff happens. It's where people show grit, and cling to courage.
2020 IS the Messy Middle
I see this year and this time as the messy middle of our times. We're so far (even if it's just 6 months or 5 years) from the world we recognize as "normal." We cant see the new version of normal on the horizon yet. We don't know how long it will be this way or when things will feel normal again. We're out here in the wilderness, and we're trying to find our way through it.
How do you find joy in the messy middle?
This is the question this season will explore. What have other people done to find joy when things are hard? What have people done to jump start their joy in times like these?
I'm going to dive and explore the topic, with the hope and intent to shed new light on how we can find joy now, even when it feels hard and improbable.
In truth, that's been the focus of the show all a long. And now it feels more meaningful and needed than ever before.
Welcome to Season 6!
Resources