Jennifer Louden is a coach, author, and all around delightful powerhouse of self care, and I'm delighted to have her on the show to talk about her upcoming book: Why Bother: Discover the Desire for What's Next. Considered a pioneer in the self care movement, Jennifer wrote her first book, The Woman's Comfort Book, in 2005. I really enjoyed talking to Jennifer, and it was an honor to have her on the show.
I very much loved hearing her talk about the process of transformation, and how "getting your bother on" can lead you to discover the thing you most desire to shift or change in your life.
Here's what she has to say about it:
"Why bother? There's a process in there. There's a transformation.We all know about transitions and being in transitions, but there's pieces of it that I've found that nobody else was talking about. Getting your bother on is the process of being in that place. So then you can begin to find what is calling you about your career or your health or your relationship or your whole life. What is truly yours?
Here's the other thing: I know it's there for every single one of us, but we don't believe it."

Jennifer loudin
Grit Without Compassion is Just Grind
So, what's my bother, recently? I stay up too late doing … stuff. I watch TV, I write posts for the show, I scroll instagram. And, it's bothering me. And so, imagine my delight when Jennifer shared her thoughts about the role of compassion in how we approach what we desire for our work, and our lives.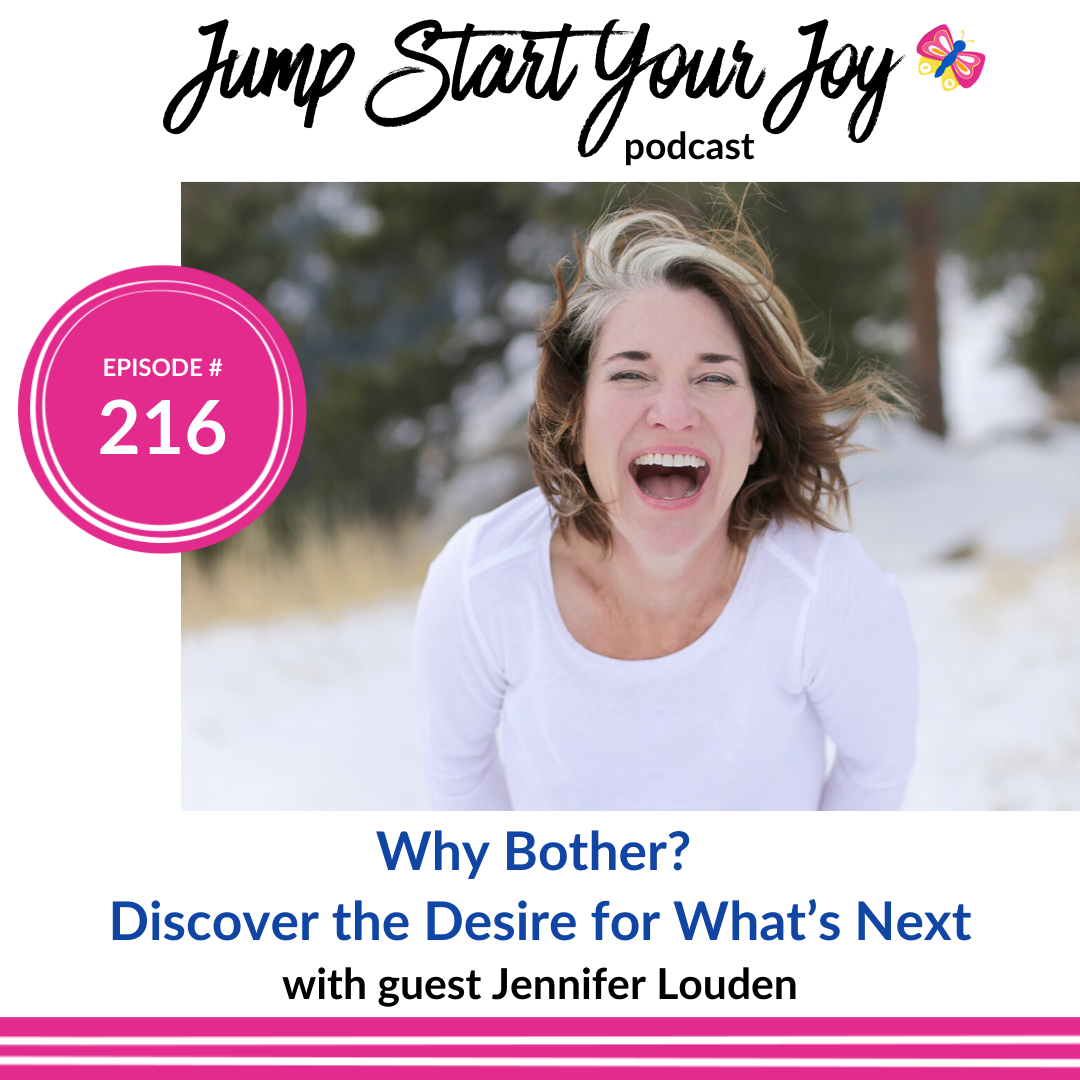 She says, "Sometimes the things in our lives are actually great, but we have ground ourselves down to a nub, through self cruelty, and the conditions of our life sometimes do need to change. Self compassion and grit is getting quiet. Marrying the two is a really important part of getting your bother on. And the next steps I'll just say quickly are subtle. They're getting quiet, which we all know is something that is incredibly difficult to do, but it's essential. The next is desire. It's really the key, but if we don't set the conditions for it, we won't follow it. We won't believe in it.
And the last one is the hardest one for a lot of people and it's being seen. We're animals who are social. We need to be in community, whether it's community of one or a community of 10,000. And, when we hide what we care about, when we hide what's starting to bring us alive, when we don't share it with our best friend or a partner or our sobriety group, we diminish and we often go back into "what do I want?"."
As Jennifer shares, this kind of grit, and digging in to get things done without layering in self compassion, is just the same as "grind." I found this inspiring, and love that she also shares how to marry grit and self compassion through getting quiet, following our desires, and being seen.
Jennifer Louden and I talk about:
-How masterminds and coaches can help shed light on things that you can't see for yourself
-Why Bother: Discover the Desire for What's Next
-Using what bothers you as an invitation to dig deeper and create transformation
-Rock bottom as a place to transform from
-Why we need to normalize that life has hard parts to it, and struggle
-Taking action is the key transforming
-Living a human scale life – one that honors your need for boundaries and care instead of being focused on hustle
-Why "faster" and "hacking" and "hustle" don't equate to "better" and why we need to set kind goals for ourselves
-"Net joy" and how to keep it as a compass for your life
-Change and growth are not linear
-How Wonder can help you get your bother on
-Grit without compassion is just grind
Resources
Jennifer Louden's website
The Life Organizer: A Woman's Guide to a Mindful Year by Jennifer Louden on Amazon
Pre-Order Why Bother: Discover the Desire for What's Next by Jennifer Louden on Amazon