In this episode, I'm overjoyed to have EB Sanders joining me to talk about her work as a career coach, and how to design a career and a life that works for you. She has an amazing background of being a teacher, then a staffing and recruiting professional, and now she is a full time career coach helping creative people discover work that makes them happy. EB and I hit it off from the moment we said hello, and it was such a treat getting to pick her brain about how people design a career, as both a full time employee in a corporation, or as an entrepreneur.
How and Why People Get Stuck in Careers That No Longer Feel Like a Fit For Them
One of the things that resonated with me the most in this discussion, and maybe you'll see a bit of yourself in this, too – is how she describes many of the people who seek her out. She says that "they know that there's something else they want to do, and it's really capturing their interest in that it's really kind of preoccupying them. But they've worked so hard to get where they are that they don't want to jeopardize all of that work and people really get stuck in this either/or situation."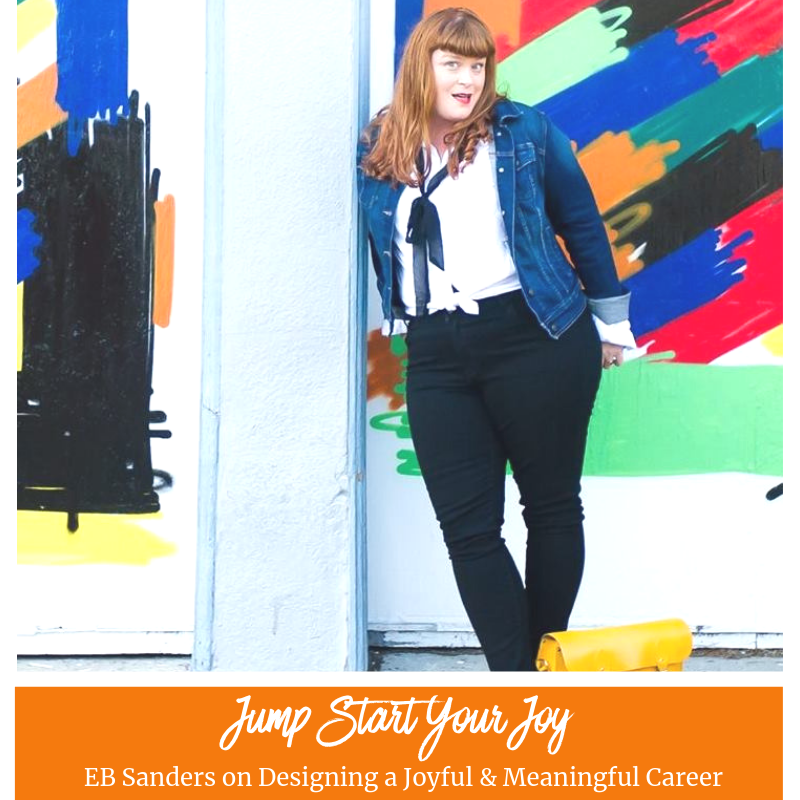 This is 100% the place where I was stuck, and exactly the thing that held me back when I started my entrepreneurial journey. While I was very excited at the prospect of going out on my own as a podcast producer and coach, I was also highly reluctant to walk away from the long-lived career I had as a project manager. It kept me stuck in project management for a long time, and it even kept me looking for different project management jobs long after I knew I wanted to leave and the position no longer felt like a fit. My true shift came, for myself, when I proved to myself that I could make a go of being a producer and coach on my own by having enough business to support myself making the leap to leave.
And EB shares that her clients discover the same thing that I ended up realizing:
"It's a belief system that is 100% totally constructed. I harp on this so often with all my clients; it doesn't have to be an either/or. There definitely can be an and what and that balance is different for everybody. For some people that might mean you do a side job where you're doing something really creative and you're selling little pieces at a farmers market or something.
Maybe it does. You really do start a little side business of your own. Maybe it does mean you just you know volunteer at a creative type of organization and get your "Creative Yayas" out while helping other people. There's just so many different avenues for that, but it's interesting to see how people get scared by the idea that there is something else that they're interested in and they're afraid, really it's just about being afraid of giving it time and attention."
Get Your Creative YaYas Out There
The other thing that EB and I talk about, and that fit in with the "action" that I like to talk about as far as how to bring more joy into your life, is that there are lots of options for you to explore something creative even if you are not finding that outlet in your day to day job.
In this episode, EB Sanders and I talk about:
Her joys of creating a book about being strong as a little girl
Working with creative people to help them get to the next level of whatever they are working on in their lives
The various definitions of what it means to be creative, from engineers to CPAs, to those trained in the traditional arts
Her road to becoming a business coach: from teaching, to staffing and recruiting, to coaching
How people approach wanting to change careers, or look for something new in their job, and what else is usually going on in their lives
Being creative is not being lazy
Taking a nap can be a creative reboot
Why keeping a salaried job may be the best choice for you
Why being challenged at work is so key to your enjoyment
How defined roles and responsibilities play a role in your job satisfaction
Defining your values to help lead the way in discovering what you want and need from a job
How to have the difficult conversations you need to have, to keep a healthy working environment alive (and why it's not just up to management to create that environment)
How to turn around a toxic working environment yourself
How to structure a successful one on one meeting with your manager or supervisor
Don't shy away from doing whatever feels easy for you
How to jumpstart your joy: petting puppies, listening more than you talk, and "eat the ice cream"
Resources
EB Sander's Website
Use the code "FRIENDFAM" to get 15% off any of EB's programs
EB Sanders on Instagram
The Artists Way by Julia Cameron on Amazon