Jenny Mahan is a registered nurse and certified health and wellness coach, owner of Pine Creek Wellness, and a soap maker. Jenny works with people to help them reclaim their health in a way that invites them to reconnect with what delights and nourishes them. She lives on a farm in far northern Wisconsin and she is truly a multipassionate person – she's also a singer and songwriter, author, jogger, and hammocker. It's really a pleasure to have her on the podcast this week.
The Inspiration of Useful and Beautiful
What I love so much about our discussion is that the themes of nourishment, comfort, balance, and delight seem to be woven throughout the conversation. As a little girl, Jenny spent a lot of time in the woods near the Great Lakes, and she made things with her hands that were both "useful and beautiful." This love of creativity and nature is present now, as well, in her work in health and wellness, her focus on sustainability, and the way that she finds inspiration from the plants and animals around her.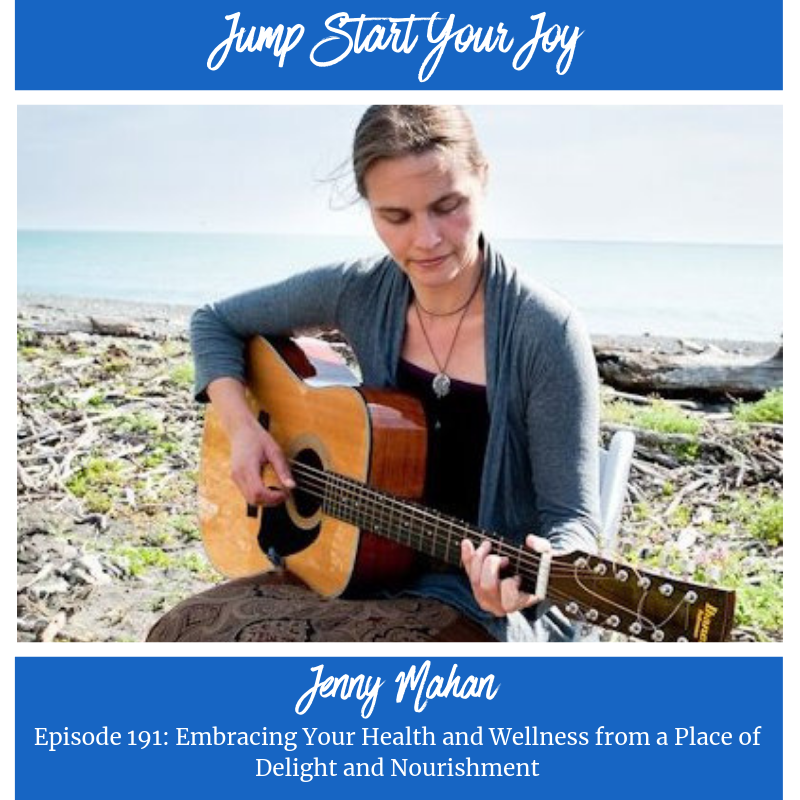 A Nourishing Approach to Health: Joyful Comfort
Jenny approaches health and wellness in a very different way than what many people are used to (and what a breath of fresh air!). She asks, "Has food or exercise become a source of confusion, shame, and anxiety, rather than a joyful comfort?" In her experience, she's seen that people are not motivated by "fear, facts, or force," but that to make a significant change in their habits she encourages them to "start with delight, and add in what nourishes" a person. So, instead of trying to force changes, or rationalize them, she suggests that someone wanting more health and well being in their lives start from a place of looking for what excites and delights them to start to build positive momentum one tiny step at a time.
Making changes for your health is full of trial and error, and Jenny works with people to help them experiment and tweak routines until they fit the person's life.
In this episode, Jenny Mahan and I talk about:
Her earliest sparks of joy as a child: music, being outdoors, and making things with her hands
The role Outdoor Education played in her life
Ecological design, and how she has looked for a reliable way to support her family
The nurturing and comforting properties of plants and animals
Therapeutic Communication and being a home care nurse
What motivates people to make changes in their health
How to plan for the challenges of life
How to jump start your joy: by keeping what really matters in mind and by "letting it rip," or giving it your all