This week on the show, I'm joined by Melissa Dinwiddie, Jamie Ridler, and Emilie Wapnick for a roundtable on being a multi-passionate person. As a multi-passionate, or multi-potentialite (or scanner, or renaissance soul), we can relate to having lots of different interests and not wanting to narrow our work or creativity down to focus to just one thing. This roundtable focuses on the unique challenges of putting structure and planning around the creativity and myriad of interests that each of us have. It's a great discussion!
This episode is airing this week in honor of the Multi-passionate Must Haves bundle, which is on sale from May 15-17, 2018. It includes 17 amazing courses, programs, and resources specially created for multipotentialites, like you. If you bought all of these goodies separately, you would pay $1585, but you can snag it all for just $97 during this sale.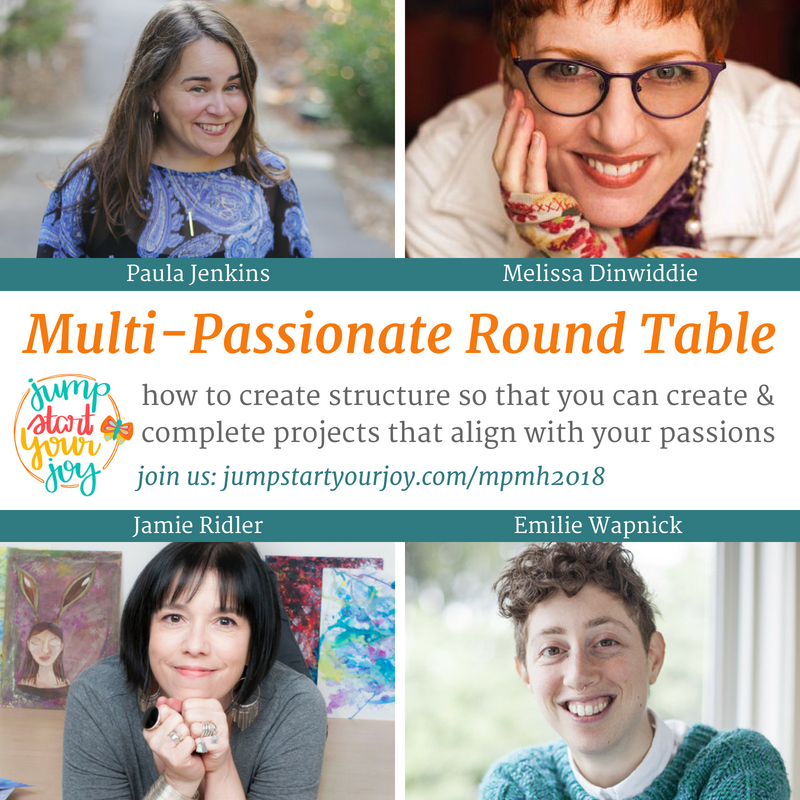 Here's why you need to listen to this episode:
I know that from working with a lot of creative people, many of whom identify as a multi-passionate, it's easy to get overwhelmed. From having a hard time narrowing down the next thing to focus on, to feeling anxious about picking one thing (when it feels like it means you're saying no to the other things), it can be hard to put structure around the multi-passionate brain, and reign in all of those great ideas.
This week, four experts talk about creating structure that works for you, so that you can create and complete projects that align with your many passions. We talk about focusing on taking action, and not getting stuck before you start work, which in turn and enables you to work past the overwhelm, and get moving. By putting some simple structure in place, it means you have more room to play, to explore, and to bring some of your many ideas to life.
To that end, here are a few of the actionable tips:
The one big tip that all four of us agreed on? Instead of keeping your long, running to do list out on your desk every day – choose the 1-3 things that you want to get done in a day on a list, and stick to that. Don't let yourself get distracted by the other (longer) list that you might have. Focus on a few things each day.
Take Action as a Multi-Passionate Person:
A few ideas on how to work on creative pursuits, even when you rebel against structure:
Create a Morning Ritual
Follow your natural rhythm and structure to find your way to your natural pacing for your day, working when you feel the most energized
Using a pause and gaps in your day to help you re-evaluate and reset to create space
Leverage the wisdom of "productive procrastination" (things will get done when they are naturally supposed to)
Setting up a practice for each day, something creative and fun, focusing on play (and not the "end" product)
How to get past the overwhelm of starting a creative project:
Approach starting with the thought that any amount counts, just start anywhere
Make your ramp on as easy as possible,set up your space to create and make it simple
Set a timer, and do just 5 minutes, knowing that you can stop when you want
Just begin, knowing that the hardest part is starting, it gets easier after that,
Aim for the "shitty first draft" (ala Anne Lamott)
In this episode, Melissa Dinwiddie, Jamie Ridler, Emilie Wapnick and I talk about:
Being a Multi-passionate, and working with having more than just one passion you want to focus on
Our earliest sparks of Joy:

Emilie: making things
Jamie: concocting things, dancing, and improv
Melissa: dancing, playing with animals, operas

The challenges of being a multipassionate: finding balance, while still maintaining variety
The offerings we each have in the Multi-passionate Must Haves bundle:

Emilie: 5 interviews from her book, "How to be Everything"
Melissa: Erase the Chaos, how to work through your mile long to do list, and provide yourself with more space and ease
Jamie: Planning Day, her most popular product, which provides form, structure and freedom around your multi-passionate and creative interests

Why Multipassionates often stop doing something before it's what is considered traditionally "finished" – we often get what we need out of the interest, and are done when we're done
What we do when we're faced with a long list of things we want to try or do, and worry we'll lose track of the ideas
How to jumpstart your joy:

Jamie: dance, photography, eating without distraction
Melissa: doodling, gratitude, generosity
Emilie: singing karaoke, swimming in a natural body of water, the ritual of coffee
Paula: singing made up songs, cuddling puppies, wearing sparkly shoes
Resources
How to Be Everything by Emilie Wapnick on Amazon
Emilie Wapnick's website, Puttylike
Melissa Dinwiddie's website
Jamie Ridler's website
Bird by Bird by Anne Lamott on Amazon
Refuse to Choose by Barbara Sher on Amazon