This week, I'm so honored to have Caitlin Greer Meister to share about her role as a voice actor, an entrepreneur, a mentor to artists, and educational consultant. She has a beautiful way of describing her work as two careers in concert, as she's a multi-passionate person that is truly doing two things she loves that help support each other. She openly talks about the pervasive opinion among artists that one must suffer for your art, and she shares about how everyone should follow their art and passion with the best energy you can. And, she walks us through how she's found her way to creating a career in concert that works, following the money, meaning, and freedom you desire.
Growing up, Caitlin loved reading books and now she is a voice actor, education consultant, and a multipassionate through and through. I love what she has to say about being authentic to yourself, especially when she speaks about how people react joyfully to authenticity. She shares about freeing yourself from external myths, and the freedom that comes with naming and stepping outside the myths and expectations. I know you'll be inspired by what she has to say about connections and joy.
In this episode, we talk about:
Catilin's love of reading from an early age

How Caitlin has found a "Career in Concert" – and what that is

How to embrace being a multipassionate person

How to pursue your art with the best energy that you can

Why being authentic to your purpose and dreams draws other people to you and inspires you

Identifying the myth that artists need to suffer to be true to their art (and the freedom that comes with identifying it as a MYTH)

How money, meaning, and freedom can help you find your career in concert

Why doing something (instead of taking the class about it) is sometimes the best way to move forward with something

Accepting that you'll be different

Caitlin's thoughts on jump starting joy: free yourself from external myths, help other people who are starting out in the arts, and focusing on developing connections in your life
The take-aways
Like many multipassionates, Caitlin has many interests and faced the question that so many of us do – how do I pull all of these interests into a way of making a living? And, how do I do this while remaining authentic to who I am, and what my interests are?
As a multipassionate, I know how critical and often difficult these questions are. If you're like me, you want to make an impact in the world, and, you want to be engaged in the work you do. Maybe it's not a fit to go by some of the other suggestions you've seen – to find a "bridge" job (one you do while you're getting an entrepreneurial effort off the ground); or a job that you go do to pay the bills so you can do what interests you on the side. You may have found (like me) that these feel "off," while the idea is great, in my case I have a hard time limiting myself to what I do in a "just pays the bills job" and it ends up taking more of my time than I'd like. And, the "bridge" job has a similar issue for me; it's very hard to find the right mix – if the job needs too much time it eats up all of your entrepreneurial time. If it isn't enough, you can't make ends meet and feel stretched too thin.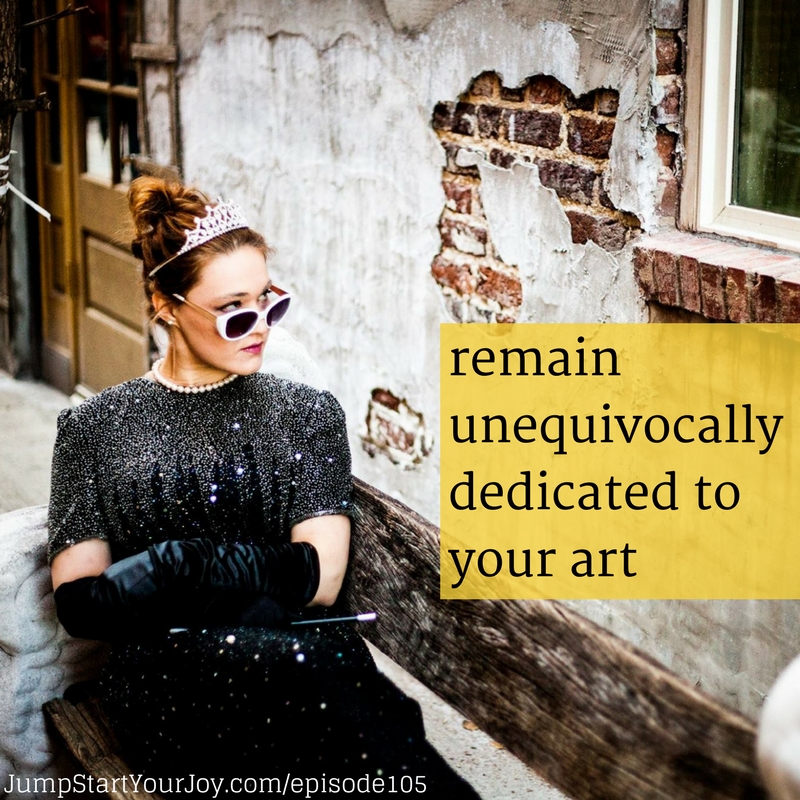 Caitlin's way of thinking about the money, meaning, and freedom puts a different lens on this problem. Instead of trading hours and pay and trying to haphazardly balance things out, starting from knowing what you need to make, knowing you want that work to have meaning, and factoring in that being creative means you'll want your freedom? Yes. This is a place to start that feels doable. And, I adore that it really honors your multipassionate-ness. In taking Caitlin's methodology to heart, you're focusing on choosing what you want, instead of trying to build your world around what someone else is offering you.
Choosing joy here is choosing to say yes to forging your own path, to pooling your passions and interests into something that fits for you, and to being mindful (and perhaps pragmatic) about choosing to pull together a path that works for you. We can all make choices about our work and what we want to pursue. Crafting a career that works is a joy filled way to embrace your gifts and interests, while serving others.
Resources:
Caitlin Greer's Actor and Voice Over site
Caitlin Greer Meister's website
Caitlin Greer Meister's Educational Consulting website