Happy Halloween! Here are some fun Halloween dinner ideas that are sure to scare and delight your guests. Last night we had dinner with my sister's family and I whipped up a frightful meal to celebrate the holiday. Ready to see this?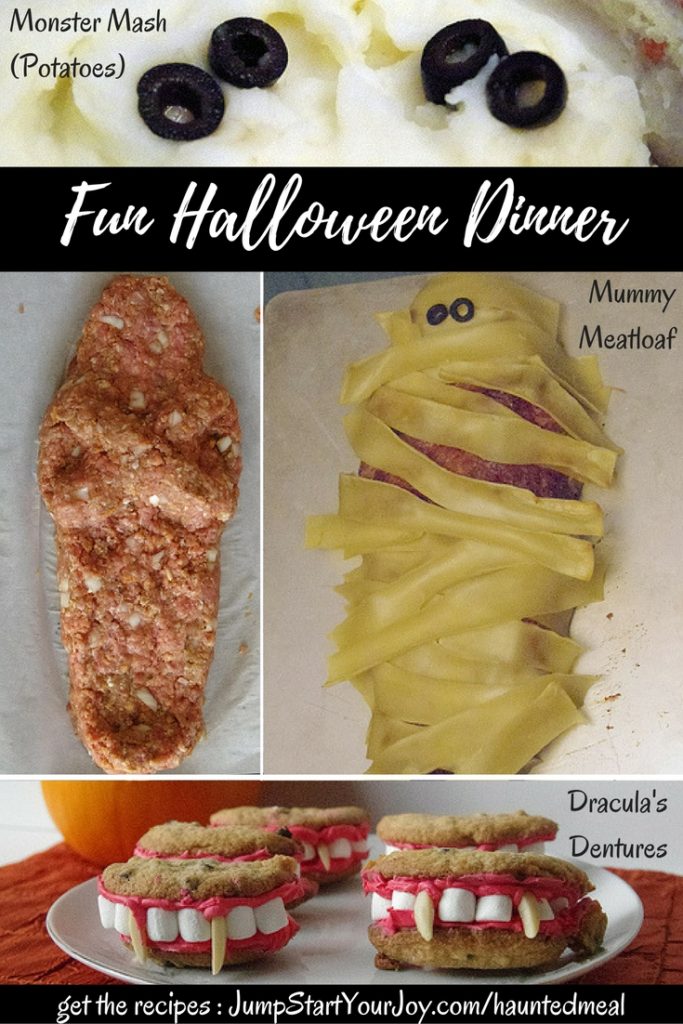 Monster Mash (Potatoes)
Just regular mashed potatoes, with olives for eyes. It looks like there are ghosts and ghouls staring up at you from the mashed potatoes!
Mummy Meatloaf
This one is gluten free, and
the recipe is from here
. I had not made it before, but it was GOOD. It struck me that I could shape thee meatloaf like an Egyptian Mummy. It's kind of horrifying how this started:
Here it is cooking in the oven:
And here it is cooked, and then covered in cooked (gluten free) lasagna noodles. I cut off the rippled edges of the noodles, which let me make noodle strips of various widths:
I cooked it one more time to warm it up, which caused the noodles to shrivel, revealing some of the crispy mummy below, how ghoulish!!
And for dessert? Dracula's dentures! Simply stated, these are gluten free chocolate chip cookies, red vanilla frosting, mini marshmallows, and almond slivers.
The recipe was inspired by this one from Nestle.
Bwahahaha! What are you doing for Halloween?