"Trust yourself. Create the kind of self that you will be happy with all your life. Make the most of yourself by fanning the tiny, inner sparks of possibility into flames of achievement." – Golda Meir
Over the past couple of years, I've been searching for the next step in my career life. I've been a project manager since 1998; with most of my work focusing on web production. I honestly do love project management, and I really like technical projects. I feel lucky to have worked on the Olympics, to have helped launch brand campaigns (Visa!), and I've loved working with some very large clients.
It's funny how priorities can change. My former self was happy working long hours, working after everyone else had left the office, I was happy pouring everything into my work. Now that I have Sean and Zoom waiting for me at home, I'm motivated to leave at 5pm. I want to be home for the little silly moments, the hugs, to delight in the cheerful toddler who will grow up altogether too fast.
The next phase is to trust myself in doing something else. I may want to contract, to take a leap of faith that I will find work, and to work for myself if I can. This kind of trust is hard, it's unlike me, but I'm drawn to it. And I think somewhere in there are the tiny sparks of possibility…
What are you trusting in?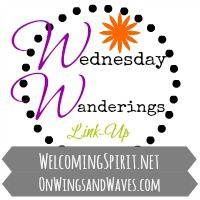 The simple rules:
1. If you post something, please stop by and leave a comment on the 2 people that posted before you.
2. Please stop by "On Wings and Waves" and say hi to Kristen 🙂
3. Please share links from your blog that you haven't shared here before.
4. Please grab the Wednesday Wanderings button and share it in your post so other people can join in the fun.
Let's get linking!