As I have embarked on my creative and entrepreneurial journey over the past several years, I've found myself drawn to non-fiction books more so than at any other time in my life. My favorites sit above my desk in the kitchen, and they are probably the same books you hear me talk about in most of my podcast episodes.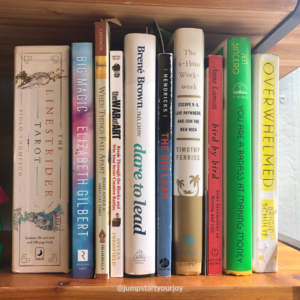 Within these books, I've learned about growing a heart-centered business, which is one of the ways I describe myself (and my clients do too!). These books contain lessons about how to build a creative business that reflects your values, your purpose, and your interests, and guide you through figuring out what all those things mean to you.
What's interesting to me, as well, is: there's also a practical approach to all of the books. They find a way to combine the heart-centered approach with the project management mindset that I love, and the thing that I find makes creativity and the creative process feel approachable. I talk about this in terms of sustainable creativity and how it requires the blending of process and structure with creative freedom.
This kind of two-fold approach is what I find works for me personally. I've found that I need a blend of the inspirational things I read from popular coaches and self help authors to keep me reaching for my higher self along with the grounded approach of specific, actionable steps that make implementing ideas possible.
Then there are the books that shift my perspective, like Greg McKeown's Essentialism, which has helped me sort out the fun ideas that I could do something with and that aligns with my main goals.
Here are the books that are very literally on my shelf, above my desk, and that I often pull out and refer to as I coach clients on their business, or when I craft a solocast for my show.
Big Magic by Elizabeth Gilbert
When Things Fall Apart by Pema Chodron
The War of Art by Steven Pressfield
Dare to Lead: Brave Hearts. Tough Conversations. Whole Hearts. by Brene Brown
The 4 Hour Work Week by Tim Ferris
You Are a Badass at Making Money by Jen Sincero
Essentialism: The Disciplined Pursuit of Less by Greg McKeown (not pictured because I liked the audio version)
Siolo Thompson's Linestrider Tarot Deck is full of whimsical, beautiful water color illustrations. It makes me happy just using it.
So tell me in the comments, friends: what are your go-to books for your creative and entrepreneurial journey?