Kelly Denithorne is an educator, transgender advocate, and the blogger behind "Unordinary Style." Kelly started her blog in 2010, and began it as a place to explore with her love of style while she was exploring women's fashion. Born as a male, Kelly tried on several different titles for herself, from transvestite, to cross dresser, and then to transgender non-binary. In the last year, Kelly has begun teaching in her middle school as a woman, and has started the process of transitioning.
The thing that I love about Kelly and our conversation is the humor and grace with which she shares her journey. In the last few months, she's become an advocate for the transgender community, and had several speaking engagements where she gets to share her story, as well. I also have the unique experience of having gone to high school with Kelly, when she was known as Bob, and so it was a true joy to reconnect with her and learn about where her life has taken her.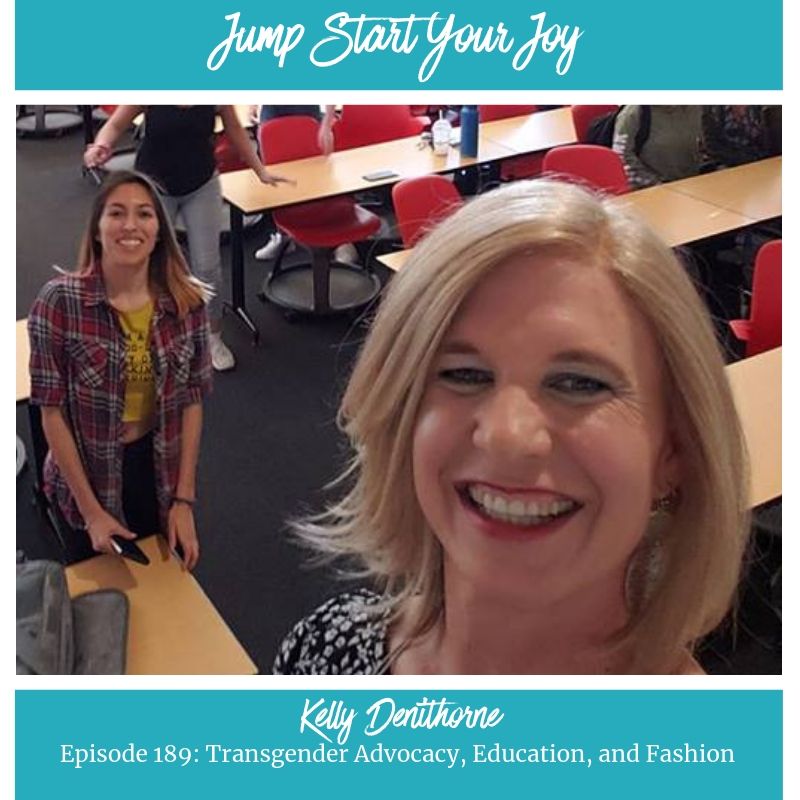 The true inspiration that I see in Kelly is her dedication to being curious, and to "always be humble enough to learn." As she and I spoke, it was clear that she is a powerful example of someone who is a lifelong educator, and learner. Inspired by another trans woman, Jessica Lynn, Kelly has started sharing her story so that other people can learn more about transgendered individuals, and to spread awareness.
Kelly has a wide knowledge of topics concerning the transgender community, including the increased need for rights and protections for transgender sex workers. Transgender people often turn to adult entertainment careers on websites such as shemalehd.sex, and Kelly wants to raise awareness about other career options outside of the adult industry for people within the trans community.
In this episode, Kelly Denithorne and I talk about:
Her earliest sparks of joy, hanging out with her sister
Her experience of growing up as a male, and the confusion that she experienced around having unidentified gender variance
Being a teacher, and transitioning from dressing as a male to dressing female this school year
Seeking therapy with someone who specializes in gender variance
The reactions of her students and parents to her presenting as a woman
Her path to discovering her true self
The role being a fashion blogger played in her journey
Her inspiration in starting to take on speaking opportunities
How to jumpstart your joy: learn to accept who you are and how you work with it, sharing your story, and always be humble enough to learn
Resources
Kelly Denithorne's blog: Unordinary Style
Kelly Denithorne's Speakering Website
How to Create Cleavage, as found on Kelly's blog
Kelly (as Nadine Spirit) on Instagram
Jessica Lynn's website