Zoha Abbas is the amazing powerhouse behind the site "Multidoer," and she works with creative entrepreneurs to help them craft process in their businesses. Here's what makes Zoha so interesting and special (and why she's an entrepreneur after my own heart): she is a multipassionate herself, and has artfully meshed the worlds of creativity and organization together to create a unique business and offering.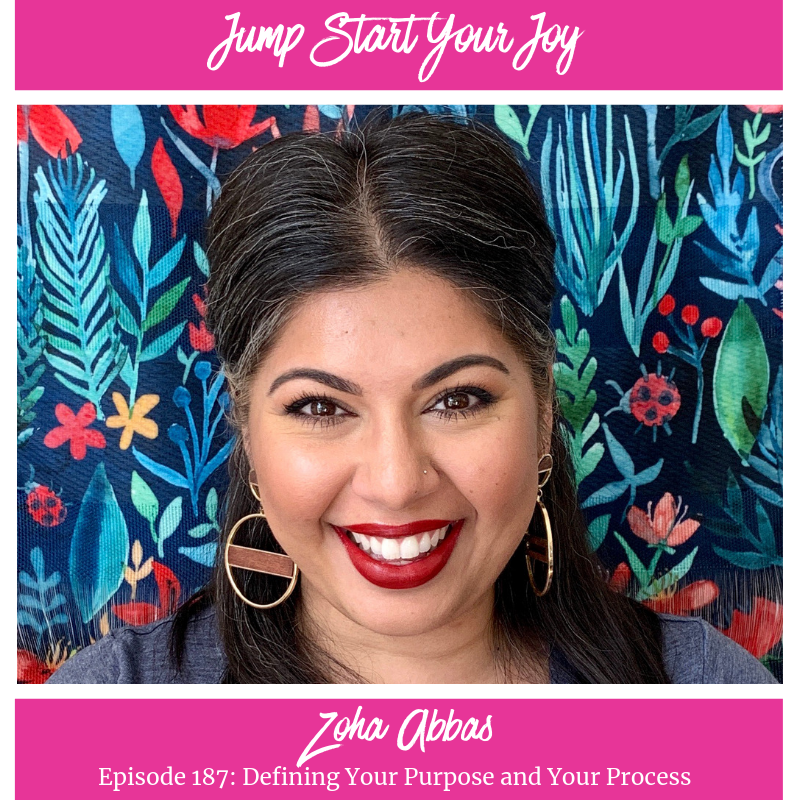 Action + Creativity = Mind Blown
Zoha was first on the show back in Season 2, and I'm so happy to have gotten to catch up with her again this week. We've both seen our own businesses and offerings morph over the last two years, and I always find it interesting when there are notable parallels between the kind of work that two people are doing. What I find super inspiring (and what fits in so well with the "Action" section of the show), is that Zoha works with clients to help them create their own structure for their business. By defining 3 key "Anchors," she helps people rework how they do work.
We walk through the three anchors together in the show, and they are:
Your workspace – as creatures of habit, it's important to define a specific workspace whether you work at home or rent an office. By sitting at a specific location for your work, it signals to your brain that it's a sacred time to do specific tasks. What this means is you're less likely to stray from your tasks, and you're likely to be more productive. It also means that you're going to associate other places (your couch or your bed) for relaxation only, and not feel that pull to "work on something" while you're watching Survivor.
Your "When" – entrepreneurs and solopreneurs benefit from defining the time that they are working each day. It doesn't have to be that you keep to a schedule that mirrors your old 9 to 5. But it is helpful for you to name the time, and be specific about what you are doing during that time. This also provides structure for you to do other things, once the work is done.
Accountability – Zoha and I talked a lot about this, and about the various ways different people respond to expectations and deadlines . What many people don't realize is that there are four primary ways that people relate to being held accountable, and by knowing your type, you can also tap into how to better motivate yourself to stick to tasks, and get them done. By knowing which of the "Four Tendencies" you are (see the book by Gretchen Rubin), you can harness your abilities for your own good and GSD. (Get Shit Done)
Inspiration and Values
Zoha also works with clients to help them identify their own Values, and pull them into their life and business. "Use your Values as your Northstar," is her advice to entrepreneurs. If you can identify what is at the core of your personality and interests, and bring aspects of that into your work, you'll be more successful and feel more "on purpose." If you're not honoring your own Values in the work that you do (or the life that you lead), you're more likely to find that you are burnt out, frustrated, or feel overwhelmed.
In this interview, Zoha Abbas and I talk about:
Being a Multipassionate and starting a business
How Multipassionates can balance work and life
The separate aspects of being creative: both in money, and in art
How to define your purpose by looking at your Values
The Three Anchors that will help you create your own structure and process
How people are motivated by different forms of accountability, and how to figure out what kind of accountability is right for you
Why you should be using Values as a cornerstone for your business
How to set up boundaries
How to jumpstart your joy: with boundaries, paying it forward with kindness, and remaining open and curious
Resources
The Four Hour Work Week by Tim Ferris on Amazon
The Four Tendencies by Gretchen Rubin on Amazon
Gretchen Rubin's Four Tendencies Quiz
Zoha Abbas in Episode 92
Sally Hogshead's Zone of Genius site