Welcome to July and the second edition of "This Month in Podcasting"!! I'm excited to share this month's great podcasts, podcast tips and news.
Over in my neck of the woods, we're about two weeks into my podcasting "summer camp," and we've just gotten through one of my favorite parts of the class, which is where students start strategizing what their show will be about and begin narrowing down a name. I just love working on this part, because things are starting to get real.
The other thing I'm seeing is that all of my students are women who are what I like to call healers and world changers (literally, all except one). These amazing and courageous folks are all coaches, creatives, all brave souls with unique messages that they're super excited to be bringing into the world. And if that's who is in the class, I'm betting you're also a healer and a world changer. Welcome. We all need you and your wisdom. And if you too are looking to build a name for yourself in the podcasting world, you might want to check out this guide to growing your podcast and attracting a larger audience.
New Stuff I've Tried
Not exactly a product, but a process this month – I've been working on batching the production of my show more. Right now, I'm in production mode for the shows that will go live through August (what is also the end of Season 2!). I've sat down and written out the intros and outros for episodes, I've been shipping off interviews in batches to my editor, and I'm excited to wrap my "taping" (for Season 2 this week. That will let me have a bit of breathing room and a break before Season 3 starts up in September.
(New) Shows to Check Out
One show I'm especially proud of (and the producer for), is
The Egg Whisperer Show with Dr. Aimee.
Aimee is a fertility doctor, and we've been doing her show as a Facebook live event every Wednesday since March. The show has a radio style call in section, and we use a green screen for the video portion that gets shared on Facebook and YouTube. Dr. Aimee is funny and so passionate about sharing fertility options – check out her show (and yes, that's my voice in the intro and answering calls, etc):
https://itunes.apple.com/us/podcast/the-egg-whispe…
I've also seriously been digging Natalie Eckdahl's "Biz Chix" show, which I'm betting you would also love. She's a coach and entrepreneur, and has a lot of great insights about podcasting and growing your brand. She shares some amazing tips about designing, launching, and growing your podcast in episode 267 (click here to listen).
If you tune in to my show, you know that I've also fallen hard for Andrea Scher's Creative Superhero Podcast. She delightfully dances in the spaces of magic and possibility and shares other people's gifts and superhero powers. Check out her podcast here.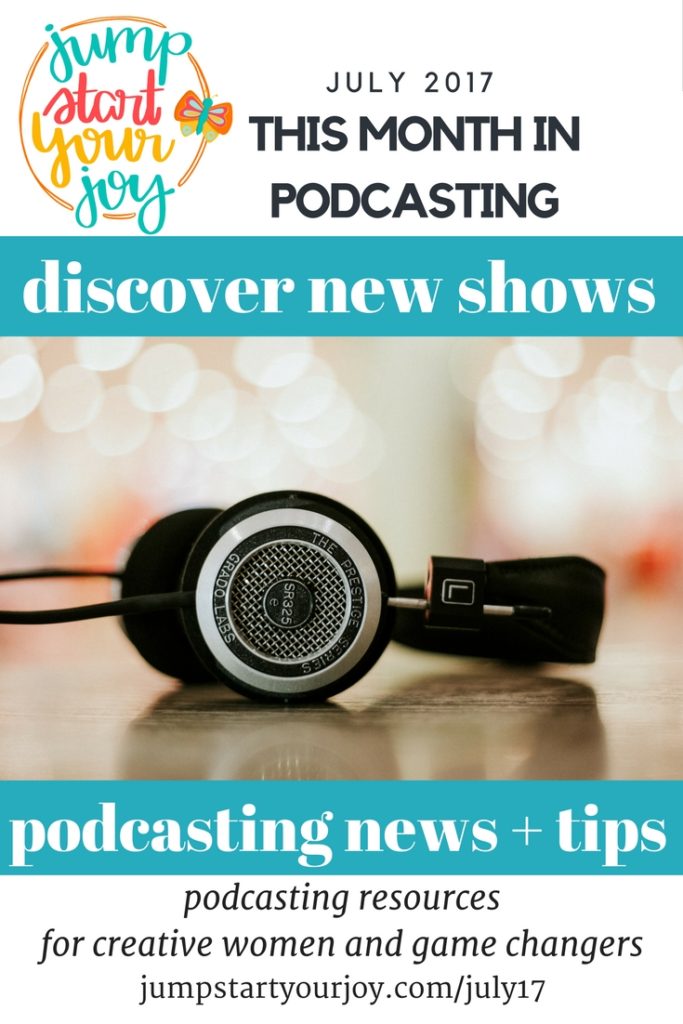 Podcasting News + Tips
The biggest news that is still rattling around the podcast-o-sphere are the changes that coming in the way Apple shares stats. Soon we'll know how long listeners are listening, and when they drop off, and that's all coming by the end of the year.
A couple of helpful links I've come across in the area of actionable tips:
– Where to submit your podcast when you're first submitting your show – The Podcaster's Studio shares the top 10 in this post.
– Why podcasts are popular and 4 content lessons you can learn from them over at Forbes was a good read with solid inspiration and info in this article.
What's going on over at Jump Start Your Joy?
For the month of June I focused on "Purpose" and had a lot of fun having a return visit from Michelle and Laura. Paul Selig joined me and channeled spiritual guides to get an answer to the question of "Is Joy our purpose?" in episode 90, and I had the total delight in meeting Zoha (another multipassionate!!) in episode 92. As is my habit, I shared my own thoughts about purpose in episode 91.
Ep89: How to get past your "Big Buts" and create the career of your dreams with Michelle Ward & Laura Simms
Ep90: On being a psychic and medium and channeling "The Book of Truth" with Paul Selig
Ep91: You can reconnect with your purpose and find your Joy with host Paula Jenkins
Ep92: How to bring your creative purpose and dreams to life with Zoha Abbas
Want to get on the list to get this roundup emailed directly to you each month, along with receiving my free podcasting fundamentals course? Sing up below and you'll be all set up.