I'm pretty much over the moon to be included in this year's Multi-Passionate Must-Haves Bundle. If you've been listening to my podcast, you know that I strongly identify with being a "Multi-passionate," or, the kind of person that has a ton of interests, and is drawn to a wide array of topics.
I've been working like crazy on my upcoming Jump Start Your Podcast course, and I'm excited to announce that the guide that goes with the class is my contribution to this year's bundle. This 6 Module, 40+ page guide won't be offered anywhere else (besides the class, which you can register for, here) on it's own.
So, here's all the latest on the bundle – it's chock full of 14 hand-picked books, courses, and resources that will help you build a life and career around your MANY passions. This year, the products in the bundle will address three broad topics: work, creativity and fear. These tend to be areas of challenge for multi-passionates.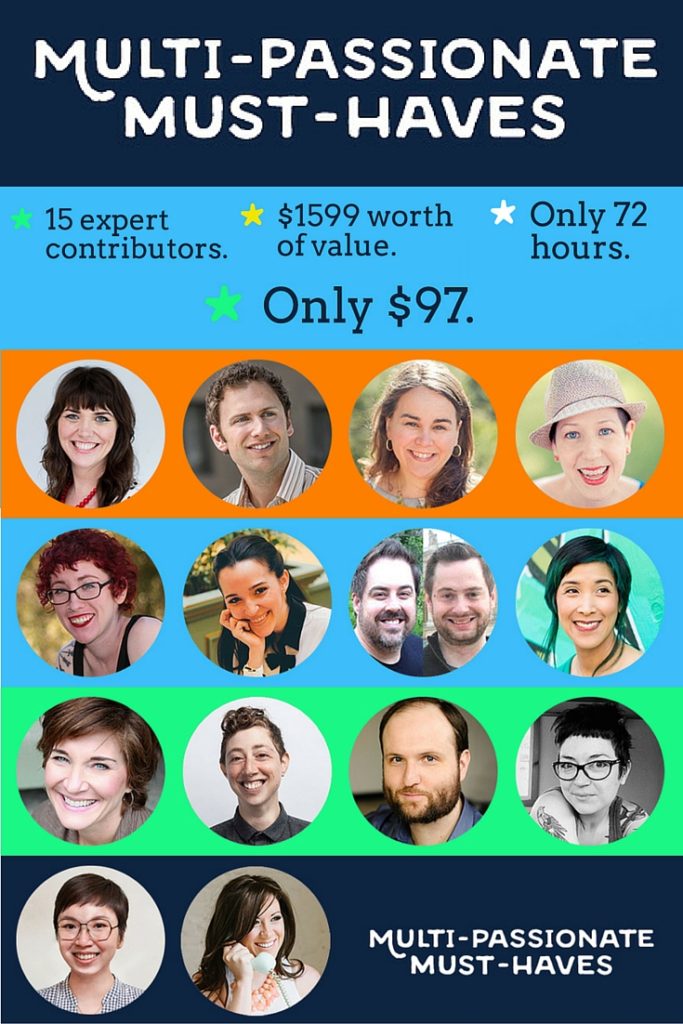 I couldn't be more honored to contribute my Jump Start Your Podcast guide alongside these amazing products:
78 Cards, All of the Things: Tarot for Multipods, Projects & Planning by Beth Maiden ($29 value – EXCLUSIVE)
Artist Websites that Sell by Cory Huff ($47 value)
Best of Productivity & Team + Best of Artists & Makers by Jennifer Lee ($274 value)
Branding Basics for the Highly-Creative Person by Tiffany Han ($97 value)
An Effective Escape by Michelle Ward ($57 value – EXCLUSIVE)
Figure Out What Fits by Scott Anthony Barlow ($397 value)
The Freelancer Planner by Michelle Nickolaisen ($15 value)
The Good to Know Project, Issues #6-10 by Amy Ng ($16 value)
How to Clone Yourself by 

Amber

McCue ($149 value)
Jump Start Your Podcast by Paula Jenkins ($37 value)
Life is Messy Planners® 2016 Edition, by Mayi Carles ($40 value)
The Niche Master Class by Jeremy Frandsen and Jason Van Orden ($194 value)
Renaissance Business: Make Your Multipotentiality Your Day Job, 2nd Ed. by Emilie Wapnick ($49 value)
The Ultimate Recharge and Renew Kit for Your Creative Life by Jen Louden ($198 value)
The total retail price for all of these products comes to $1599. But for 72 hours starting Tuesday, May 17th, you'll be able to snag them all for only $97!
And because we feel strongly that the power of multi-passionates needs to be used for good, we're going to be donating $10 from each sale to Michelle Ward's team for the Avon 2-Day Breast Cancer Walk in NY. Michelle was diagnosed with Stage One breast cancer in November 2011 and Stage Three breast cancer in September 2015.  This will be the 5th year she'll be walking 39.3 miles with Avon over 2 days with her mother and bestest friends.
I know you won't want to miss out on getting all of these great products for $97, so click here to buy your bundle NOW through Thursday, May 19.