Today marks the kick off of a journey of sorts, the beginning of a new partnership with Kristen of "On Wings and Waves." We met in an (in)Courage group, and have decided to start co-hosting a Wednesday Link Party together. I could not be more excited about this 🙂 We're also welcoming our friends from that same (in) This Season group who are joining to post links to their blogs!
As I've been thinking about the word Journey, I have to admit that my mind has wandered back to an evening in college. My friends and I were Sophomores, living in the dorms, and the group of eight included my best friend from high school, and a pair of best friends that we'd met in our Freshman year. The four of us (we called ourselves "The Unknown Gauchos") had been set on getting into one of the on-campus suites for our Sophomore year, and we'd found four more girls to join us.
In those first few months, the eight of us hung out a lot. We got to know each other. We had what we called "All Suite Blow-outs" which usually involved watching a movie, singing songs, and often taping ridiculous movies with Erica's camcorder.
One night we decided to go serenade some boys. We took our boom box, snuck outside their room, and blasted Journey's "Faithfully" below their window. We sang along, loud, off key, totally sober that night. It still stands out in my mind's eye like a scene from a movie; partly Say Anything, partly something all together unique. (It may be this memory alone that makes me love how Glee effortlessly weaves the 80s, singing, and everyday life.)
The real band Journey, courtesy of Legacy Recordings
Looking back, that time really was the beginning of so many journeys. Four of the eight of us have remained very close. We're all married now, and we marvel at how three of us all had little boys. That Sophomore year was the year I decided to become a Religious Studies major, the year I joined a sorority. It was the year we yelled "Hot Buns!" at people as they rode their bikes past our window. It was a taste of freedom, of learning, and of forming dear friendships.
And now for the Wednesday Wanderings Linky Party!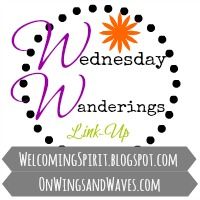 The simple rules:
1. If you post something, please stop by and leave a comment on the 2 people that posted before you.
2. Please stop by "On Wings and Waves" and say hi to Kristen 🙂
3. Please share links from your blog that you haven't shared here before.
4. Please grab the Wednesday Wanderings button and share it in your post so other people can join in the fun.