Now that little Zoom is a bit older, we're doing more crafts. I'm addicted to paper crafts, and to photography. I love to sew. And I LOVE checking out art projects that other bloggers post because I get inspired by all of new craft ideas to try out.
Soooo, I'm excited to announce that on Tuesdays I'll be hosting a "Kid's Crafts Linky Party!" This is our first week, and if you're new to Linky Parties, here's how it works 🙂
Below you will see a "Linky Tool," which lets you post the URL (direct link) to a kid's craft that you (with your child) or your child has done. You can link to your blog, or your Flickr stream, or wherever you've posted photos of the finished craft 🙂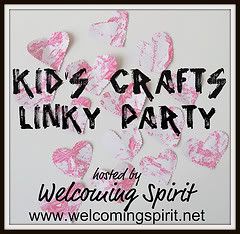 You'll want to enter your site name and project description to the "name" space on the form.
A few rules for the linky party:
1. Link to your specific post, not the main page of your blog.
2. Grab the party button and post it on your blog or post so other people know about the party.
3. Please become a follower of Welcoming Spirit 🙂 when you join the party.
4. Please do not add links that promote other giveaways, link parties or online shops.
The link party will start at 12:01am Thursday and end on Tuesday at 11:59pm (Pacific Time). By entering your link, you are giving me permission to use any part of your post including pictures in a spotlight on Welcoming Spirit. (I can't wait to highlight your work and give you credit and links back :)! )

And here's the BEST part about this first linky party … I'm also hosting a give away!! 🙂 One winner will receive a coupon for a FREE Shutterfly calendar*, good through 12/31/12.
Here are the rules for the give away. I will pick one winner using random.org. The give away will be open from noon on 2/16/12 to 11:59pm on Tuesday, 2/21/12. You can get an entry by doing each of the following things and posting a comment below – for a total of 4 points + the number of crafts you link to:
1. Participate in the linky party. Each linked craft will get you a single entry!
2. Comment below. One comment per person counts for an entry.
3. Follow Welcoming Spirit on Facebook (please comment and tell me you are following me!)
4. Tweet about this Linky Party on Twitter and post your @twitter below.
5. Blog about the Linky Party and post a link to your blog post below.
This give away is now closed. A winner will be announced soon 🙂
*The coupon is directly from Shutterfly, and you will need to use the code on that card to order your calendar. There is no "cash" value to this prize.