As you guys know, I like doing crafty things around the house to make our home look a little more like us 🙂 I'm trying to find the balance of what I talk about here, amongst the retreat leading, the baby, and the home. Honestly, all of these things inspire me. That's why I love to talk about them.


It's cool when another blogger features you, so I thought I'd give two a little shout out here and give them both a special thanks for spreading the love on their blogs.
Back in May, the Bulletin Board post was featured on Bella Before & After. Bella's blog is lovely, and she really embodies the spirit of encouragement. She loves to feature her own home improvement projects and roots for all of us who are also trying to DIY our way to a lovely place to live. Obviously, if you have bigger projects in mind such as structural change or adding onto a home then it is definitely time to bring in the professionals, you do not want to be installing stucco on the exterior of your home by yourself, that is what a stucco contractor is for. Always be mindful of what you can and cannot do in and around your house as you do not want to make a mistake that could cause further issues.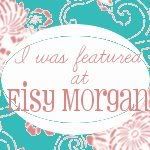 This month, Ashley at Eisy Morgan featured my side table redo. Ashley's blog has a warm, welcoming tone, and you can just tell she's a genuinely friendly person. She's a California girl living in Colorado, which is a flip flop of me! (OK, OK, I only lived in Colorado for 3 months after I was born there…)
I want to thank both of these lovely ladies for stopping by and for hosting such fun linky parties 🙂