This week marks the end of Season 2 on Jump Start Your Joy, and to celebrate, I invited several of the most popular guests from this season to return for a round table format. I'm catching up with Laura Simms, Michelle Ward, Deb Cooperman and Kate Courageous, and Sarah Von Bargen. All five us of work as coaches, healers, and game changers and I wanted to take this opportunity to talk about how we've seen joy showing up since the most recent election. We share about how our business has changed, how we see coaching clients reacting, what dishing about joy, finding inspiration, and self care in difficult times.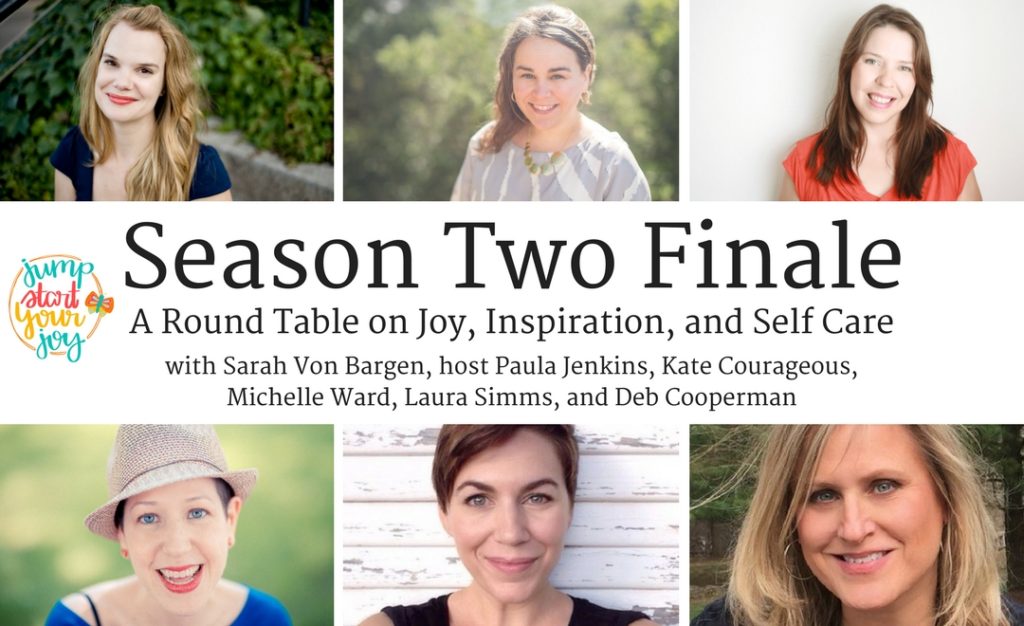 I feel so lucky to have these five amazing women joining me for this season finale. Each of them represents one of the most downloaded episodes of the year, so I know they are audience favorites. What strikes me is that these are also some of my favorite people in the world; they each are truly remarkable women in their respective fields. It was a real honor to have them each back, and such fun to have them all together in a single episode to celebrate this amazing season.
In this episode we talk about:
– what's changed and challenged each of the guests since we last chatted
– what inspires them in today's world
– where they see hope playing a role in the world
– our favorite desserts
– what's changed in their business since the elections
– joy, finding inspiration, and self care in difficult times
– what we can each to do make a difference in the country, especially in hard times
– what we do for self care, so we can be there for our own clients and families, when we feel overwhelmed by world events
– what joy means for each of us
Resources: The Guests
Laura Simms website
Kate Courageous website: Your Courageous Life
Tribe CLCC (Kate's Coaching Certification course)
Michelle Ward's When I Grow Up Coach website
Deb Cooperman's website
Sarah Von Bargen's Yes and Yes Blog
Kelly Diels, We are culture makers
Our Favorite Summer Books (includes affiliate links)
Paula recommends:The Spy: A Novel of Mata Hari by Paulo Coehlo
Laura recommends: Commonwealth: A Novel by Ann Patchett
Kate recommends: The Paris Wife by Paula McLain
Deb recommends: White Hot Truth by Danielle LaPorte
Michelle recommends: Chasing Slow by Erin Loechner OR Tim Gunn's Guide to Style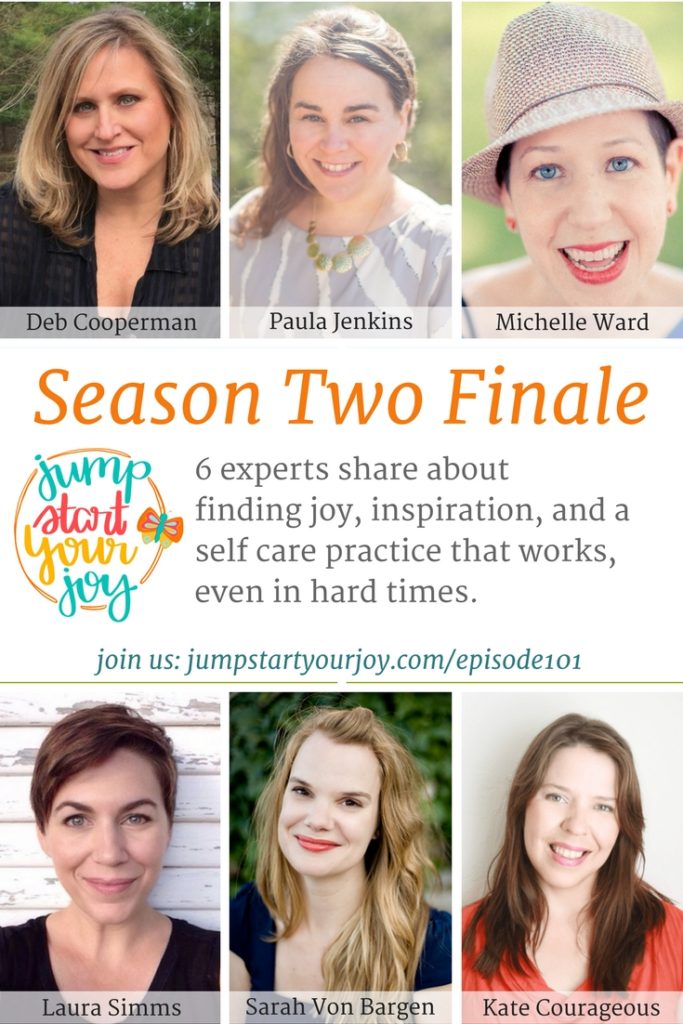 Joy + You, Unleashed
A sweet email course to reunite you with joy, packed with goodies + surprises just for you. Sign up with your email below.