Our kitchen is meh. When we first looked at the house, I loved the light that streams in to the kitchen, I liked that it was pretty large, and I liked that the cabinets had potential. I didn't like the builder basic color of the cabinets, or the brown walls, the linoleum, or the overhead lighting. You can see more about my current plans for the kitchen in this post.
So what is inspiring me for this redo? I've fallen hard for some gray cabinets, for beadboard, for pretty curtains, and maybe some blinds. I want a little desk for ME! in there somewhere. Here's what I'm in love with:
LifeinGrace has a gorgeous kitchen, with smooth gray cabinets. I love the paneled ceiling, and I love the bright bowls and plates. I spy beadboard behind the plates! Did you know that I also have a lot of the polish pottery in that upper right hand corner? Adore it 🙂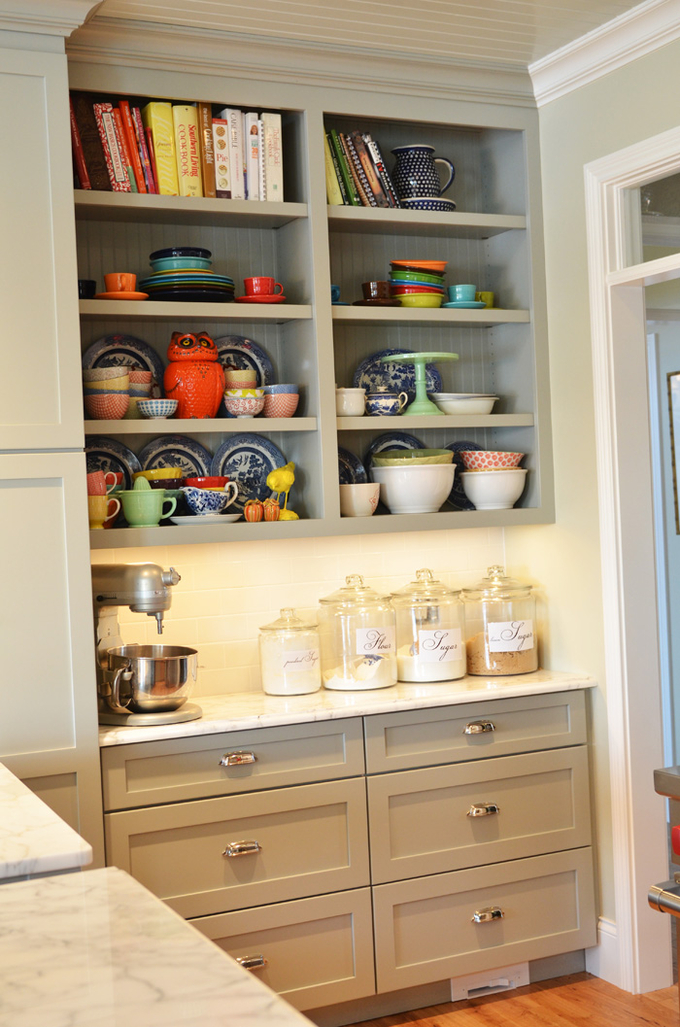 Layla of The Lettered Cottage mocked up a gorgeous cottage kitchen a couple of weeks ago. The light teal cabinets are an inspiration. Again, I love the beadboard on the fossits (little space above the cabinets), and I like the two tone cabinets.
Another challenge for us is that in opting to buy a two bedroom (down from a three bedroom rental) means that we lost our den. I'm not a fan of having a desk in the master bedroom, so we are going to have to look for a place to keep our desks. I'm still hoping to place a desk in our …. kitchen, as a little nook just for me and my computer. OK, but much smaller 🙂
And while we don't really have room in our kitchen for a banquette, I'm dreaming of one in the dining room area
like this one from BHG.com
. I think it could be a great space saving option for us, since we have a fairly small "great room." I love the open shelving here, and the coziness of the corner bench seat. I think we could put some IKEA book shelves on either side of a corner bench to make it look built in. Now, how do we get all that great light into the space?
Joy + You, Unleashed
A sweet email course to reunite you with joy, packed with goodies + surprises just for you. Sign up with your email below.