With Jump Start Your Joy being live since September 2015, I get a fair number of questions about how to subscribe to the show. People know that they can get the show auto-magically downloaded to their phone (yes!), and if you're not sure how that magic happens, here's everything you need to know in one handy guide 🙂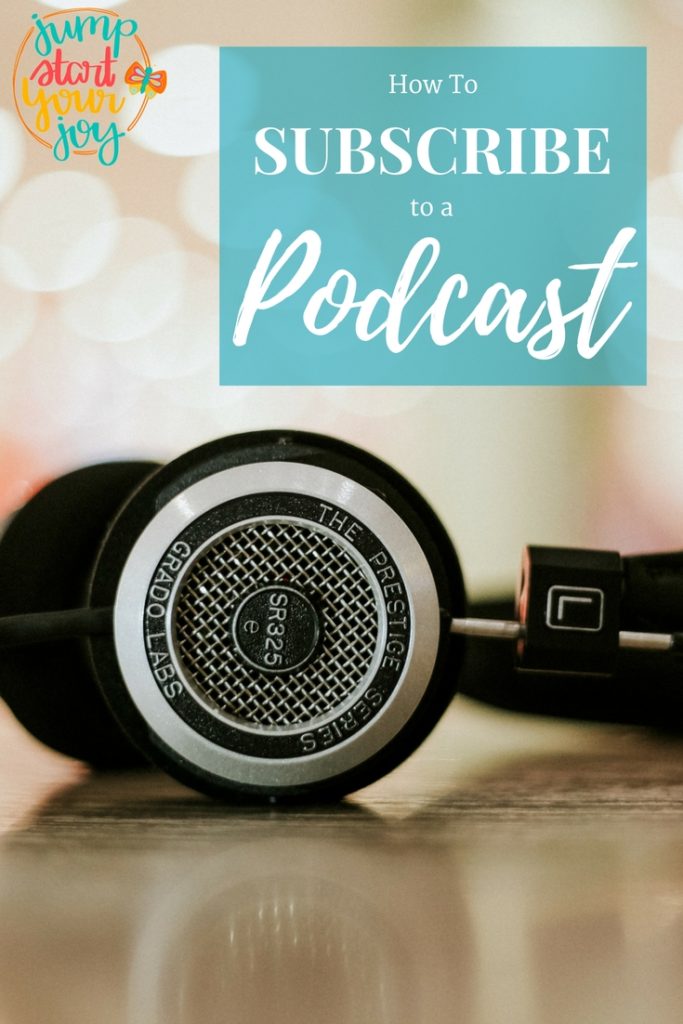 If you're already familiar with podcasts, you can find Jump Start Your Joy on iTunes, Google Play, or TuneIn Radio to subscribe. The show is also available on Pocket Casts and Stitcher. I launch a new episode every Tuesday morning.
For my own podcast listening, I'm all about using my phone and listening via the iTunes Podcast app. The app comes pre-installed on most iPhones and iPads (look for the purple icon, as seen in the screenshot below). If this is all new to you, here's a quick tutorial on how to find the app, and subscribe to your favorite shows.:
To subscribe to Jump Start Your Joy on an iPhone using the Podcasts app:
Step 1. Click the Podcasts app on your iPhone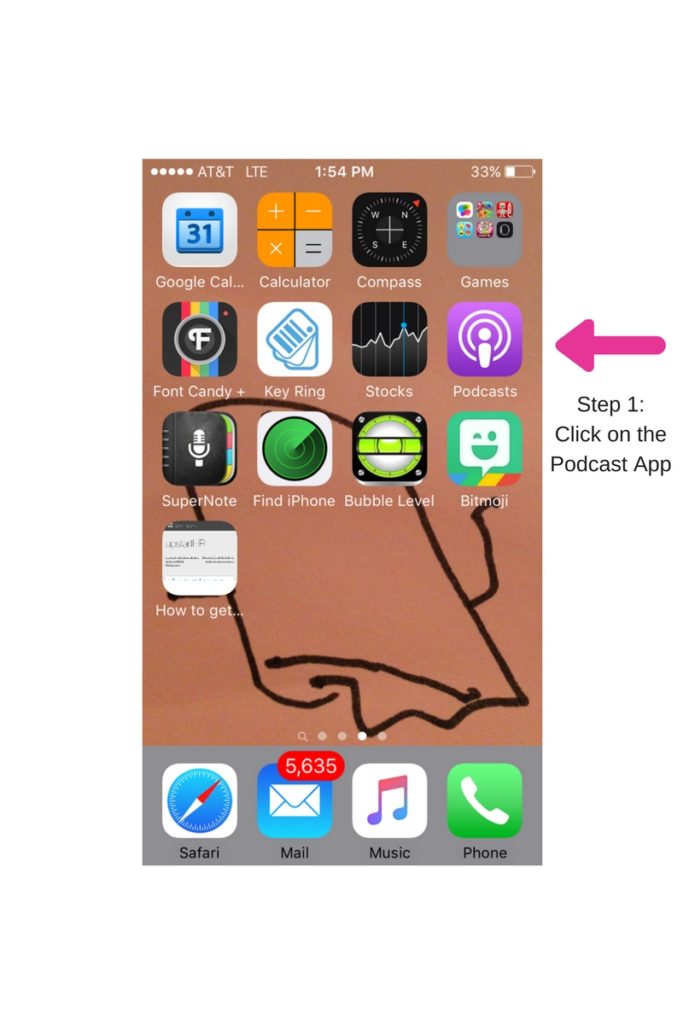 Step 2. Tap the magnifying glass in the bottom-right corner to Search.
Step 3. Type "Jump Start Your Joy" (or your favorite show) in the search bar at the top.
Step 4. From this screen, click our large icon in the middle of the screen (the podcast ling here for that is the "cover art")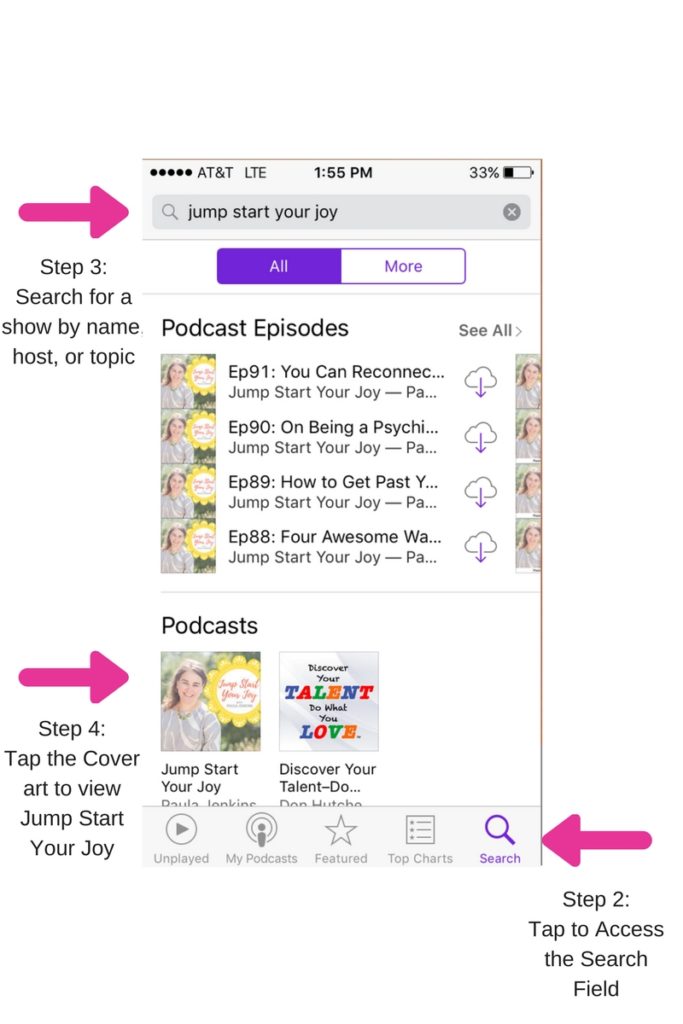 Step 5. From the "Jump Start Your Joy" page (seen below) press the Subscribe button. Subscribing is free and you'll get the latest episode downloaded to your phone each and every Tuesday.
Step 6. The most recent episode should download auto-magically. If you want to download a specific episode you can click the download icon (cloud with down arrow) next to each episode.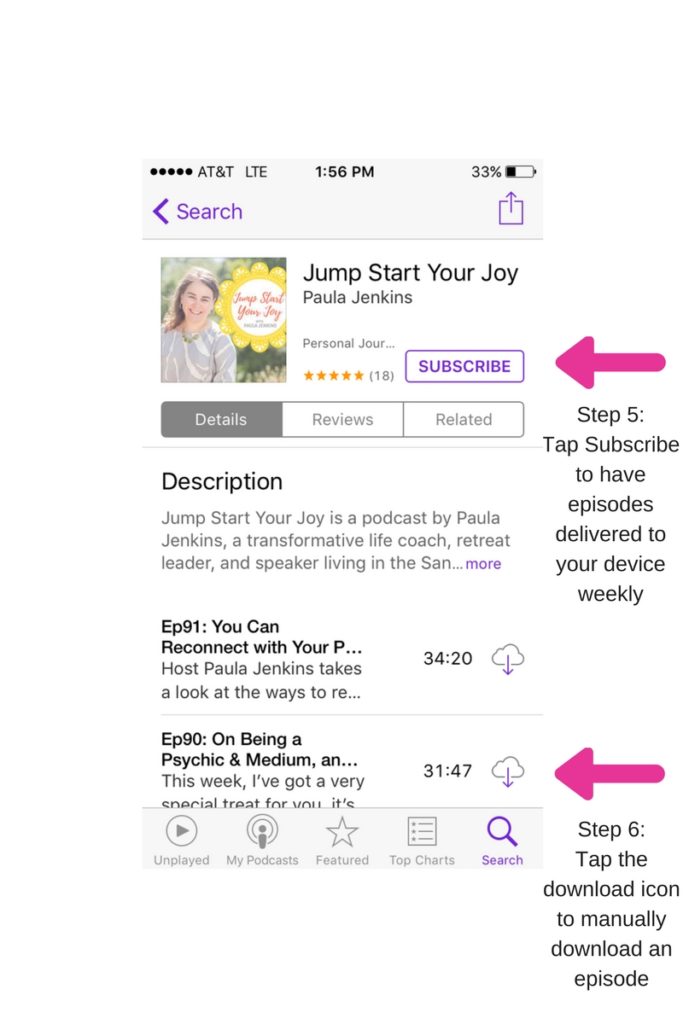 Step 7. You can view and play all of those episodes by clicking the Unplayed icon in the bottom left of the screen, which displays any downloaded episode that you haven't listened to yet.
Step 8. Then just click the one you want to listen to first and it'll start playing.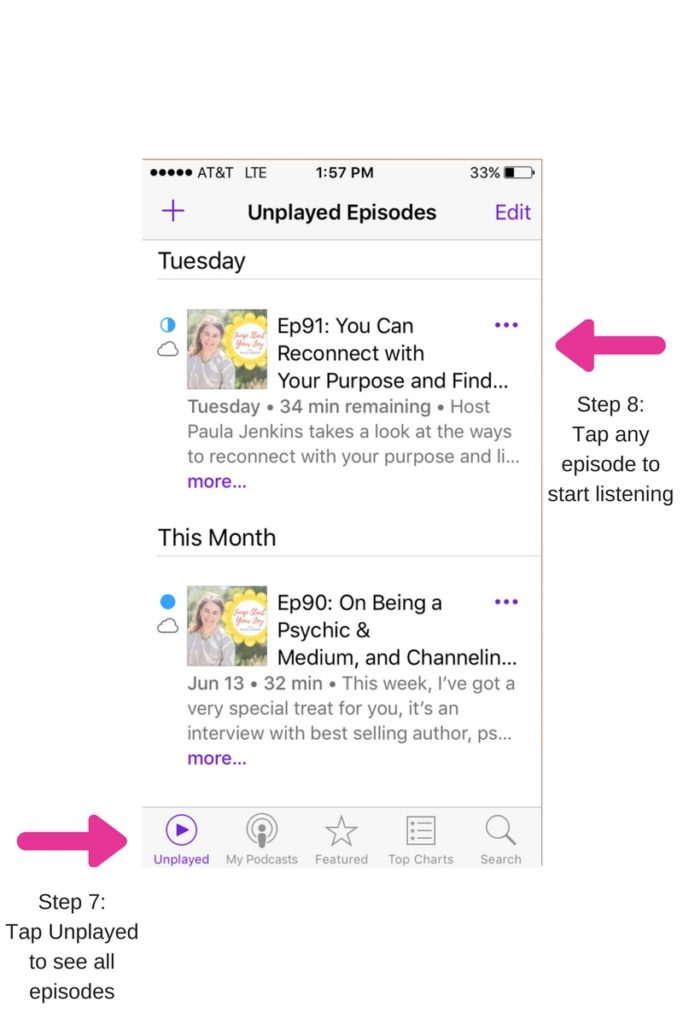 Bonus: If you're just trying to see if you like a new show, you can find everything in that show's catalog by clicking the feed button, and playing episodes that way (before you decide if you want to subscribe).
Woohoo – You did it! Now the auto-magic stuff is all set up, and you'll be getting new episodes delivered directly to your phone or iPad each week. Each Tuesday Morning, you can click the purple Podcast icon on your phone, and find the unplayed episodes of Jump Start Your Joy.
The other great thing about the iTunes app is that you can explore other podcasts, both on the Featured area or Top Charts section. It gives you a super easy way to find new shows to listen to.