We are in "The Joy of Marketing" month, where I'll be talking with small business owners and marketing experts about how they have found ease and joy in their marketing.
In this episode, I'm delighted to have Suzie Soloviev of Your Sacred Record coming on to talk about how you can have more fun and more joy in your marketing. She's a story teller at heart, and helps people discover how they can tell their story clearly – from bios, to copy for websites, to crafting your message, Suzie digs in and finds the truth and clarity for her clients. Plus she shares how she incorporates puppets into her business, which you're going to want to learn more about, and we dig into why you need to be sharing your pricing up front, as part of your marketing information.
So, Suzie is an amazing mix of story teller, truth finder, and narrative coach, and when she originally pitched herself she shared that she likes to harness the power of Mad Libs to help people find their most authentic bio. She loves musical theater, is multi-passionate like so many of the listeners of the show, and so basically it was a big "no duh" to have her on the show.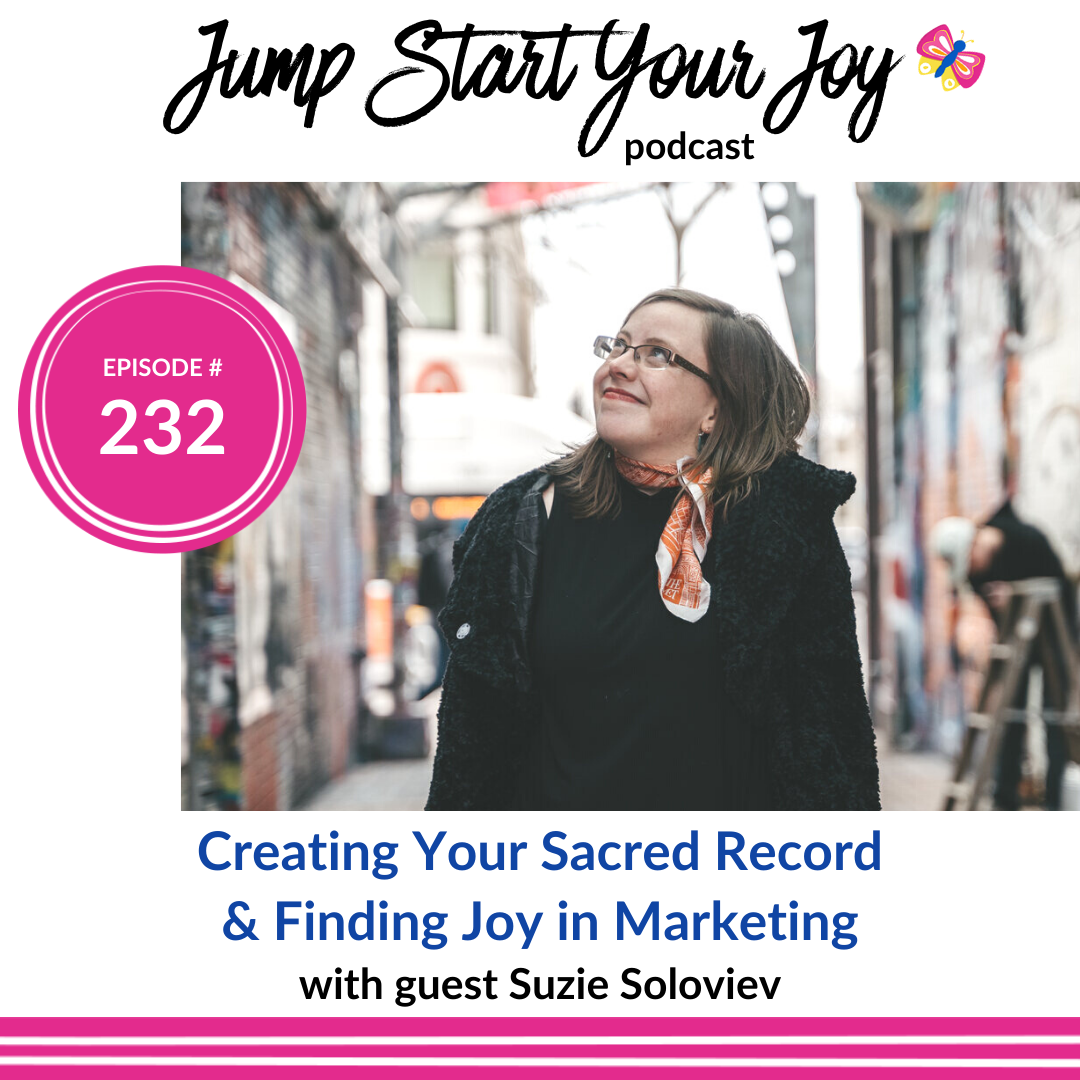 The truth of the matter is that many entrepreneurs (and especially women) find it hard to talk about themselves. You may have loads of experience coaching or working with others, but freeze up when you try to describe what makes you unique. And, you might even default into listing accolades, past jobs, and where you went to school and what degrees you hold when you go to write something about yourself.
And yet, that doesn't really tell anyone anything about who you are, or why they would want to work with you. And THAT right there is where Suzie jumps in and makes both good sense, and loads of fun of things. So, I'm delighted to share how you can write a joyful bio and create copy that reflects who you really are with guest Suzie Soloviev.
Her basic formula for a good bio consists of these three steps:
1. Credentials – your background, accolades, certifications, and degrees.
2. Connection – an emotional connection that you have with your audience. Share something personal about yourself.
3. Intrigue – a fascinating bit about yourself that makes the reader want to learn more.
In this episode, Suzie Soloviev and I talk about:
-Her earliest sparks of joy: performing and video taping those performances as a kid
-Her background writing copy for businesses
-How she landed her first client on a call
-Why marketing can feel arduous or like a chore (hint: You're pushing something you don't really want to be doing)
-Why Suzie has a puppet in her Instagram feed
-How to embrace your own truth and let it become your business (we both fought it)
-How it's hard, as a multipassionate, to own the Thing you want to do
-How to write a great bio
-Pricing and Marketing are part of the same conversation
-Three ways to jump start your joy: Add plants to your home or living space, do something silly and share it with a child (or online), and sing with other people.
Resources
Suzie Soloviev's website: Your Sacred Record
Book a 1:1 session with Suzie
Brene Brown: The Call to Courage on Netflix
Brene Brown: Joy is Terrifying