I'm so thrilled to have Jennifer Lee on today to talk about building a sustainable creative business. Jennifer is the amazing coach behind Artizen Coaching, and the author of Building Your Business the Right-Brain Way and the bestseller The Right-Brain Business Plan. She's also a part of the amazing Multi-Passionate Must-Haves Bundle this year.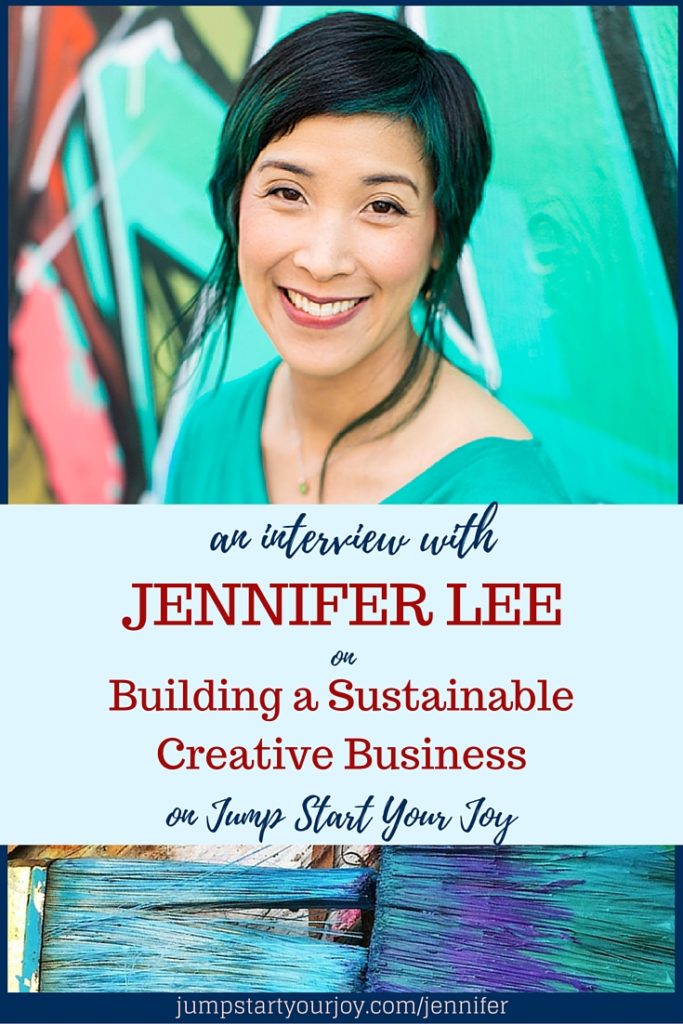 Here's what I loved about my conversation with Jenn, and I know you'll love her, too. She's has a smooth, down to earth, and no nonsense approach to creating a creative business (and coaching business owners). Throughout our discussion, she had a confident air that exuded the message, "You've got this," and I found her refreshing and inspiring. It's easy to get caught up in the hype, either in one's head, or in social media, of listening to all of the "shoulds" that one faces when starting a business. Instead, Jennifer's confidence assures you that everything will be just fine. Normally, those who start their own businesses often find that everything is fine. It's just the fear of failure. However, that can't stop people from following their dreams. It's important to really push forward when starting a business. This can be done by creating a good business website to make sure traffic can start flowing to the site. This is one way of advertising the business too.
Need to financially support your creative passion? No problem, get a side job, it gives you the space and energy to workon your business.
Feeling burnt out because the pressures of owning your own business are pressing in on you? Implement self care, and build time into your schedule for creativity.
The inner critic is screaming, and you're feeling overwhelmed? Look at the "why" behind the panic, and it will help you with your purpose.

Here's what Jenn and I talked about in this episode:
[5:06] Jenn tells us about her early Sparks of joy – she loved to paint and draw, and Pippy Longstocking
[6:34] Jenn's work now as a business coach for creative / right brain entrepreneurs, letting them tap into their unique gifts and message to stand out in the crowd
[7:35] the things that start to come up for people as they explore being a right brain / creative entrepreneur
[10:10] getting past the shoulds and discovering the impact one really want to make in the world
[10:56] following the right brain process to see where there is energy in new ideas
[11:16] career shift from being in corporate to becoming a coach and author 10 years ago (congratulations Jenn!)
[14:07] what it was like leave her corporate job and how the growing a business is slow and steady climb
[15:54] revisiting her business goals after 10 years to determine what's next
[16:23] Jenn's process as she dives into reevaluate her business at the 10 year mark
[18:41] how right brained people can follow their creativity to make a business that feels authentic and taps into their passion
[22:20] the hard part of being a multi passionate and running a business and making time for both the administrative pieces
[24:53] the importance of creating just to create
[25:06] Jenninspiration as a multi passionate even when things are hard
[28:39] how Jenn has worked hard to define success for herself
[30:18] the things that we have to untrain ourselves on as we go into business for ourselves
[31:03] how Jenn wrote her second book dealing with autoimmune disease
[31:20] Jenn's mentorship program, which is tailored for each person, Allowing each person to make their business very authentically like them
[33:09] why starting a creative business can be very lonely and what to do about it
[37:11] the balance of passion and purpose for the right brain entrepreneur
[38:37] the idea is Elizabeth Gilbert big magic of not burdening your creativity to pay the bills, and why it's ok to get job to help pay the bills while you work on their creative career
[43:28] how to bring your dream into action (dream big, start small)
[44:46] three ways you can jump-start joy in your life
[bctt tweet=" 'surround yourself with supportive and #inspiring people.' #entrepreneur #creative @artizencoaching " username="jumpstartjoy"]
Resources for this show:
Jennifer Lee's website: Artizen Coaching
Jenn's mentoring program (accepting applications through May 31, 2016)
The Right-Brain Business Plan by Jennifer Lee on Amazon
Building Your Business the Right-Brain Way by Jennifer Lee on Amazon