This week is going to be so much fun. First, I'm super excited to announce that the big Multi-Passionate Must-Haves Bundle is live! I put a big bow on my "Jump Start Your Podcast" guide, and it's one of the 14 items that's included in this amazing sale. I won't be offering it anywhere else, and, the only other way to get your hands on this guide is to sign up for my class.
You can go buy it right now (and don't wait, it's only available for 72 hours).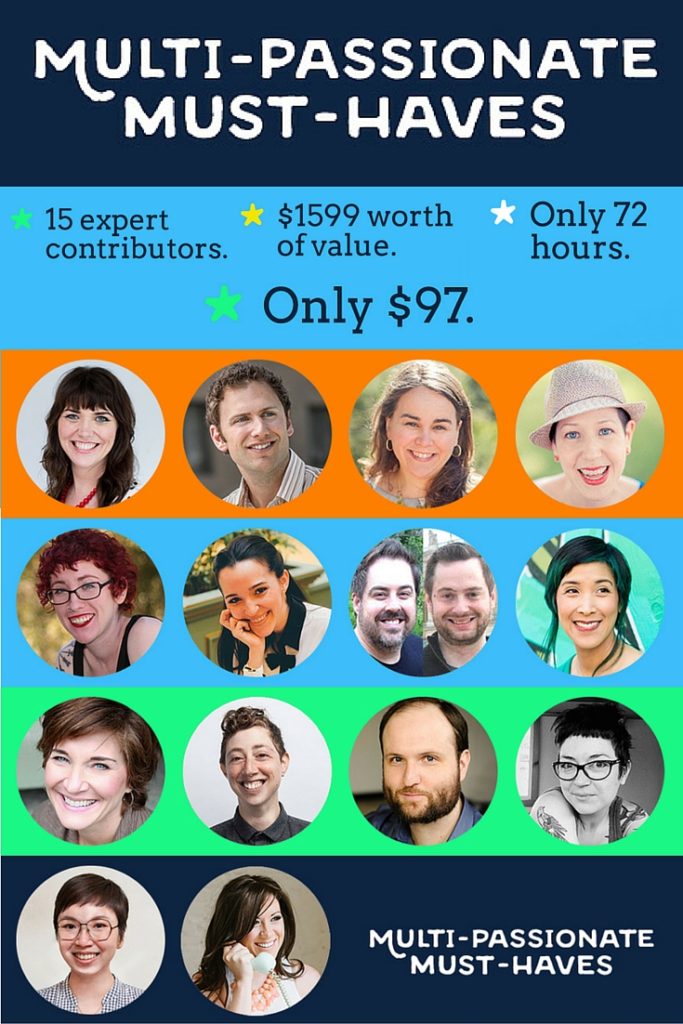 I'm also super stoked that Michelle Ward has re-released her "An Effective Escape" in this bundle. I used it to plan out my own escape from my corporate gig in January, and it helped me figure out the financial logistics of what I needed to save to feel comfortable making the leap.
In honor of all of the excitement, I've got THREE podcast episodes going up this week, each with an interview with a different multi-potentialite. Here's the line up:
Tuesday: Mayi Carles – you can go listen now by clicking here.
Wednesday: Jennifer Lee of Artizen Coaching
Thursday: Cory Huff of The Abundant Artist
What are the other items that are available in this sale?
78 Cards, All of the Things: Tarot for Multipods, Projects & Planning by Beth Maiden ($29 value – EXCLUSIVE)
Artist Websites that Sell by Cory Huff ($47 value)
Best of Productivity & Team + Best of Artists & Makers by Jennifer Lee ($274 value)
Branding Basics for the Highly-Creative Person by Tiffany Han ($97 value)
An Effective Escape by Michelle Ward ($57 value – EXCLUSIVE)
Figure Out What Fits by Scott Anthony Barlow ($397 value)
The Freelancer Planner by Michelle Nickolaisen ($15 value)
The Good to Know Project, Issues #6-10 by Amy Ng ($16 value)
How to Clone Yourself by 

Amber

McCue ($149 value)
Jump Start Your Podcast by Paula Jenkins ($37 value)
Life is Messy Planners® 2016 Edition, by Mayi Carles ($40 value)
The Niche Master Class by Jeremy Frandsen and Jason Van Orden ($194 value)
Renaissance Business: Make Your Multipotentiality Your Day Job, 2nd Ed. by Emilie Wapnick ($49 value)
The Ultimate Recharge and Renew Kit for Your Creative Life by Jen Louden ($198 value)
Don't wait to buy – this sale will be over at 11:59pm on Thursday, May 19, and then it will be gone forever. Go buy now >
Joy + You, Unleashed
A sweet email course to reunite you with joy, packed with goodies + surprises just for you. Sign up with your email below.