Alison Arngrim played Nellie Oleson for seven years on the hit show, Little House on the Prairie. She is often described as the "acid tongued hellcat" of the show, the small villain with golden ringlets and lovely clothing, and the arch-enemy of Laura Ingalls. Alison and I jumped on the phone for a little over an hour, and all I can say is that it was one of the most fast paced, hilarious, and engaging hours I've ever experienced. Tune in as I interview Alison Arngrim on beyond surviving: embracing the gifts of Nellie Oleson.
Alison Arngrim speaks about Confessions of a Prairie Bitch
Alison shared a good deal about her book, "Confessions of a Prairie Bitch," and we spent time chatting about her childhood and landing the fabled role of Nellie Oleson. What really stood out in our time together is Alison's true appreciation and gratitude for the role that Nellie eventually played in her own life. As a shy child, a child that was being sexually and physically abused at home, playing Nellie instantly pushed Alison into a role that changed her, and made her more courageous. Since then, the role has given her a platform, allowed her to help charities that assist abused children and AIDS patients, and more recently, allowed her to start speaking about issues that women face in her lecture "More Than Just Surviving."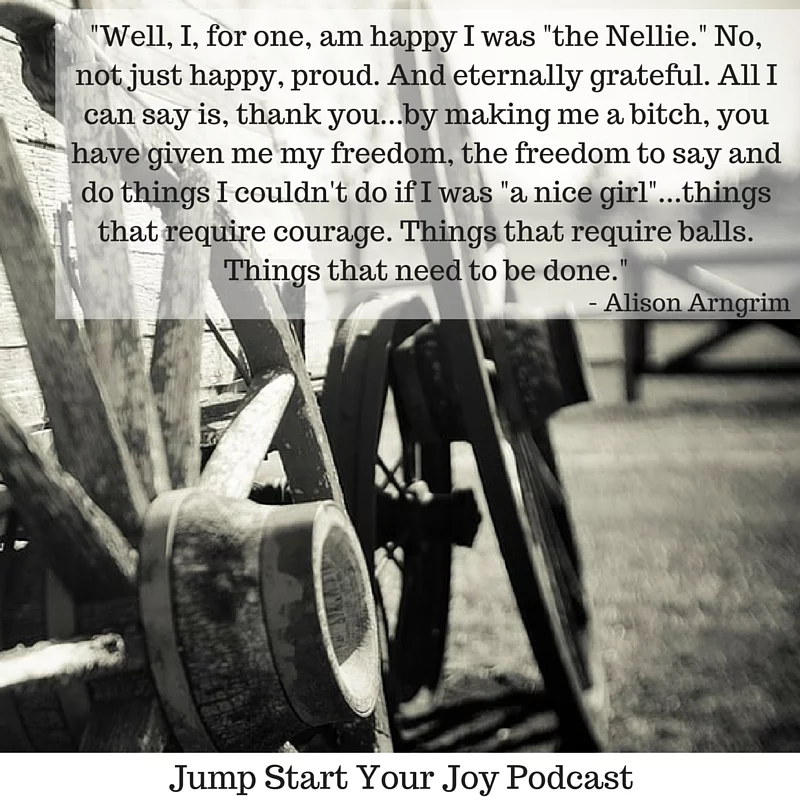 I want thank Alison for her time – speaking with her was an inspiration. I know you're going to love this episode, and if you do, I encourage you to check out her book Confessions of a Prairie Bitch on Amazon. I thoroughly enjoyed reading it before she and I spoke.
In this episode, Alison Arngrim shares about:

– making people laugh as a child
– possibly "retiring" from acting at age 11 prior to getting the role of Nellie
– her realization that the role of Nellie was very different than the other hyper-sweet children she often read for
– the instant change of how people reacted to her in public after Little House on the Prairie first aired
– why she thinks Little House on the Prairie is so popular throughout the world
– Michael Landon, and how he created plot lines for the show
– Melissa Gilbert is now running for Congress in Michigan
– her amazing friendship with Melissa Gilbert
– the best way to find a good date
– how she met her husband Bob at the AIDS Project Los Angeles
– the "Pocket Nellie"
– leveraging fame and people's love of Nellie to help others
– her upcoming line of scented candles and a ceramic pony
– how to sign up for the Nellie Newsletter
– her upcoming lectures with Petersen Productions
– working with Girl Cave in Huntington Beach
– a hint about her second book!
Resources
Alison Arngrim's Bonnetheads.com website (sign up for the Nellie Newsletter here)
Alison Arngrim's Book, Confessions of a Prairie Bitch on Amazon