We had a great week, with lots of very cool crafts 🙂 Zoom and I got crafting this week, too, but we made gifts for Mother's Day, so we are going to wait to share them until next week so Nola and Granny Liz get to have a surprise! Thank you all for submitting your crafts, it was super hard to pick out the Editors Award this week. Let's check out some of the highlights!
This week, the most clicked craft was "Spill the Beans!" by Brittany at Crafty Mischief. This is n smart way to teach sorting skills, and I like that it takes, well, just a bag of beans and a muffin tin. After the beans were sorted, the kiddos made cute artwork with them on paper plates. 🙂

The Editor's Choice award goes to the Finger Puppets made by newcomer Dona of Sewing Miles of Smiles. These happy looking finger puppets are just perfect for playing with, and I know that Zoom would love them. I'm especially fond of felt crafts, probably because I had a bunch of felt animals as a child, myself.
If you were featured, please grab a button and display it with pride 🙂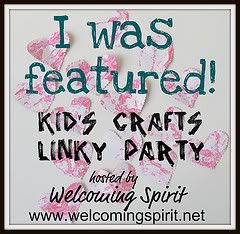 It's time to link up for the Kid's crafts party 🙂
A few rules for the linky party:
1. Link to your specific post, not the main page of your blog.
2. Grab the party button and post it on your blog or post so other people know about the party.
3. Please become a follower of Welcoming Spirit 🙂 when you join the party.
4. Please do not add links that promote other giveaways, link parties or online shops. And please only add links for crafts that you have not submitted on Welcoming Spirit before.
The link party will start at 5:00pm Thursday and end on Wednesday at 11:59pm (Pacific Time). By entering your link, you are giving me permission to use any part of your post including pictures in a spotlight on Welcoming Spirit. (I can't wait to highlight your work and give you credit and links back :)!
What have you all been working on this week?