I've been seeing a bunch of super cute ideas for Mother's Day crafts and thought it would be a great week to share those with you. Mother's Day is just a week away 🙂 so let's get crafting!
Footprint Butterfly
I need to find myself a frame so we can try this idea out. I sure hope Zoom doesn't mind getting paint on his feet 🙂 I found this one on "It's a Strange and Lovely ride."

Hands and Hearts Card
Who could resist this simple card pattern? Just use your hands, or your child's hands, and include a sweet message for mom! I found this one one Pinterest, but it's from the Russian site Krokotak.com:
Our craft of the week last week was Pam's Recycled Cardboard Party Props. This post is full of creative ideas to use at a birthday or theme party; I love the triceratops cut out she made for her son's 5th birthday party 🙂
Congratulations to the Pam, please grab a button and display it with pride!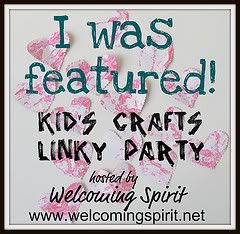 It's time to link up for the Kid's crafts party 🙂
A few rules for the linky party:
1. Link to your specific post, not the main page of your blog.
2. Grab the party button and post it on your blog or post so other people know about the party.
3. Please become a follower of Welcoming Spirit 🙂 when you join the party.
4. Please do not add links that promote other giveaways, link parties or online shops. And please only add links for crafts that you have not submitted on Welcoming Spirit before.
The link party will start at 10:24am Thursday and end on Wednesday at 11:59pm (Pacific Time). By entering your link, you are giving me permission to use any part of your post including pictures in a spotlight on Welcoming Spirit. (I can't wait to highlight your work and give you credit and links back :)!
What have you all been working on this week?