So many fun crafts have been posted up this last week.
The entry that received the most clicks was Letter of the Week – H by Two Sasters.Cari and Cortnee consistently come up with very clever crafts (so many c words!) and I love how they keep their kiddos involved and happy.
target="_blank"
The "Editor's Choice" award goes to Crafty Kids' Jellyfish in a Bottle. I know that Zoom adores jellyfish, and this cute craft is both simple and engaging for little minds. It brings in both science and hands on fun, and it's the kind of thing that would be great on a rainy afternoon.
Thank you to everyone for your submissions – and if you've been featured, please grab a button 🙂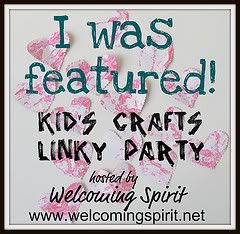 A few rules for the linky party:
1. Link to your specific post, not the main page of your blog.
2. Grab the party button and post it on your blog or post so other people know about the party.
3. Please become a follower of Welcoming Spirit 🙂 when you join the party.
4. Please do not add links that promote other giveaways, link parties or online shops. And please only add links for crafts that you have not submitted on Welcoming Spirit before.
The link party will start at 10:24am Thursday and end on Wednesday at 11:59pm (Pacific Time). By entering your link, you are giving me permission to use any part of your post including pictures in a spotlight on Welcoming Spirit. (I can't wait to highlight your work and give you credit and links back :)!
It's that time of the week again to link up! What have you all been working on this week?