"What's my purpose?"
It's hard to answer this question when life feels riddled with to-do lists full of other people's agendas, a job you hate, a marriage that feels more like being roommates than soul-mates, or no time to yourself.

A lot of people talk about "searching for" their life's purpose. That externalizes all of it, taking you away from your own heart's center. The truth? Your life's purpose is what you say it is. When you know that your priorities are, you live a purpose-driven life.
YOUR COURAGEOUS PURPOSE (YCP) is a virtual course that gets to the heart of prioritizing what truly matters most, to you. Based on the work of the Courageous Living Program, we're examining the choices, the questions and the challenges that either bring you closer to a purpose-driven life or father away.
The result?
You'll come away from this course knowing what's working, what's not and what to do about it so that you can feel grounded in your choices and see clear progress forward.


– Get to the core of what you truly want, weeding out the distraction and creating focus.
– Completely change the relationship with your inner critic – so that it's no longer your adversary.
– Uncover the old patterns that play out, year after year, largely unseen. When you see them clearly with the support of a life coach and a group of women in community, you'll be able to change those patterns, one and for all.
– Create your Life Vision Statement, a statement of purpose that will change how you orient your day, your to-do lists, your relationships…everything.
– Get energized around commitment, so that you can stick with changes and make them long-lasting.

Anyone can read a book about gaining insight or clarity into their purpose, and that might be helpful. What we're coming together to so is join with a like-minded tribe. This is about connection with others, the benefit of others sharing their reflections when you ask for help, and having a ton of fun jamming out (Because this work of purpose? It doesn't have to be so serious!).
If you've craved an environment where you're surrounded by people who "get" you and you've wanted someone to help you articulate for yourself how things have become stuck and how to get life moving forward, this is the course for you.


Your facilitator will be me, Paula Jenkins.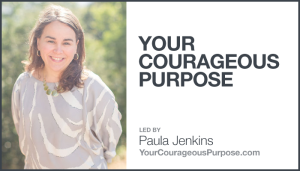 The class is currently underway, running through the first week of May. To get on the list to be part of the next class, fill out the form below.
[contact-form to='paulajenkins1@gmail.com' subject='YCP Wait List'][contact-field label='Name' type='name' required='1'/][contact-field label='Email' type='email' required='1'/][contact-field label='What Timing Works Best for You?' type='select' required='1′ options='Weekday during the day,Weekday after 5pm PST,Saturday Morning'/][contact-field label='Anything you%26#039;d like to add?' type='text'/][/contact-form]
Joy + You, Unleashed
A sweet email course to reunite you with joy, packed with goodies + surprises just for you. Sign up with your email below.