So, you want to start a podcast? You're in the right place! I've developed my "Jump Start Your Podcast" bootcamp with you in mind. After getting a lot of questions about how I started my own show, I created this course to give you all the information you know to feel confident in launching your very own show. The class is now in it's third session (woo-hoo!), and was part of the 2016 Multi-Passionate Must Haves bundle (purchased by over 600 people).
My mission is to get you out the door, ready with an episode to launch your own podcast, just 7 weeks after we start. I run Jump Start Your Podcast as a live course, and we meet over video conference or a conference call line each week. I limit the class size so you can get your questions answered, and we can all get to know each other (and support one another) in our time together.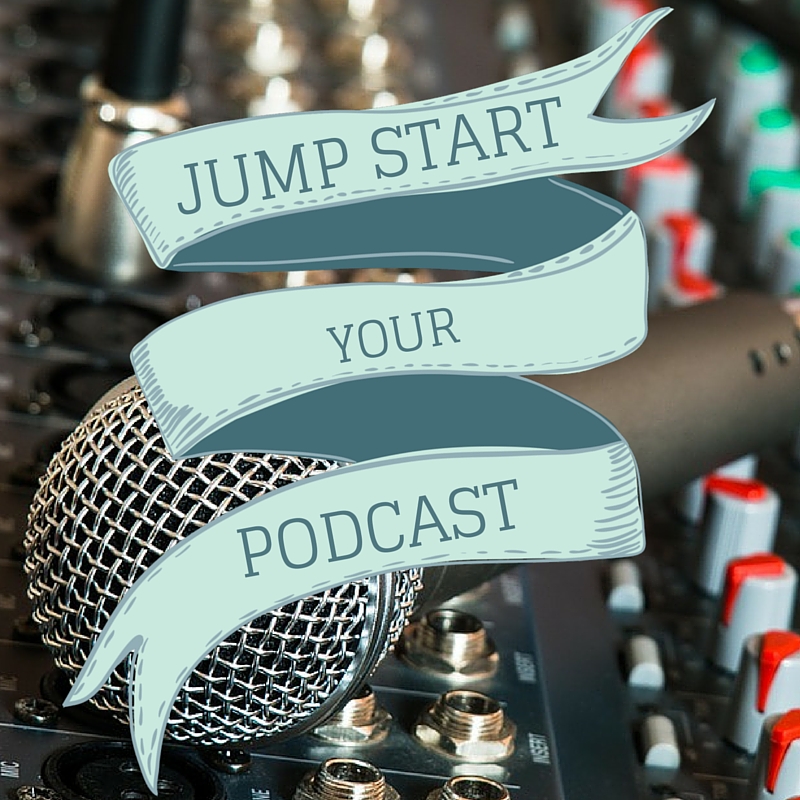 What's included in the modules:
– what to consider when naming your show, and how to decide on a name and a focus
– the basics of what you need to record / edit / publish a podcast
– how to find music, artwork, and other resources to optimize your show
– options for editing
– setting up the feed for your podcast so it gets picked up by iTunes and other syndicators like Google Play Music, iHeartRadio and Stitcher
– pitching guests for your show
– what to do to support your show, including ideas for social media, and cross promotions
– the best known info on how to hit the big notable milestones that everyone is all nuts about over at iTunes (but we'll also talk about why it's not that big of a deal, really)
How the class works*
– a live call with the whole group, weekly, to go over our lesson for the week
– coaching and consulting on the call
– a private Facebook group for us to chat in, as we go
– an intake session with each participant. You and I will get on the phone together, and hash out what has drawn you to podcasting, and narrow down what your show is, what you want to do with the show, even how often you'd like to update it
– a community of no more than 20 people who will be at the same phase, with you, as you go – we're going to tackle the fears, the bumps in the road, and the hard stuff TOGETHER. Plus we will celebrate and support each other when each person launches their podcast.
– home work for each week that will stretch you a bit, but make sure that when we're done with the class, you're ready to hit publish on your podcast
Who is this class for?
This class is a great option for you if:
– you're serious about launching a show, and have some ideas about what your show will be about
– you see podcasting as an addition to your "brand" or message, and want to use it as a vehicle to spread your message to the world
– you are comfortable with technology and understand the basics of blogging and/or social media
– you're an self starter that is comfortable learning in groups, and are OK with asking for extra help if you need it
– you like to have fun while you learn
– you've got a big heart and are yearning for community around something you're excited about doing
You probably should pass on this class (for now) if:
– you're going to need help setting up a blog or website, or get the vapors thinking about maintaining anything techy
– you're looking to start a podcast as a revenue stream only
– you're competitive, and tend to be confrontational … ain't nobody got time for that!
What students have to say:
Paula's first-hand experience with her own successful podcast, coupled with her training and sensibility as a transformative life coach, was a fabulous combination. She created a welcoming community among the participants, shared her personal words of wisdom and tested tactics, and developed clear documentation to go along with the engaging group calls. I would highly recommend Jump Start your Podcast to anyone looking for a personal guide and comprehensive training at the start of their podcast journey.- JN
The next class will be starting in January 2017.
 To be considered for the class, sign up to be notified by email when registration opens (and you'll get podcasting hardware and software cheat sheet as a special thank you.) I can't wait to work with you!
Register for the Free Podcasting Fundamentals Email Course
Sign up for my five day "Podcasting Fundamentals" email course and get the Hardware & Software quick reference guide as a bonus. You'll also be on the VIP list for "Jump Start Your Podcast," my 7 week podcasting course.
Why this class is different, and a bit about my show
– I walk you through the process of creating a podcast, and provide the coaching and consulting along the way. There's not another class out there with this combo, or my experience.
– When launching my own show, I found many free resources (some are really outdated), and I found some very expensive classes. None of them seemed to offer anything personalized, and I was not going to drop near 2 grand on a class. So, I took notes, I documented, and after I launched and had success with it, I had a lot of people asking how I did it. I want to teach you what I learned, and give you the support I wish I'd had when I launched.
– About my show: Jump Start Your Joy launched in September of 2015. My podcast hit "New and Notable" two weeks after launching, and has been on "What's Hot" under Personal Journals since week 13. At week 20, my show hit #82 in it's category, and at week 36 it hit #81.
– My background is in advertising and marketing, having worked for 17 years at big ad agencies as a project manager. You'll get the benefit of my experience in launching large projects, and creating templates for you to use on your podcast.
– I'm a certified life coach, and know what it's like to put myself out there, exploring new scary things, and I want to help you through it.
*A quick note: Curriculum is subject to change based on the needs of the class. This class is set up so that YOU will be learning how to do all of the set up, and ongoing work for a podcast. The fees do not include design work, website set up, feed submission, or creation of any assets for you. You will need to buy your own hardware and some software to create a podcast, and it's assumed that you are comfortable with setting up a simple blog or website. I'll be teaching you the skills and process on how to set up and run your podcast, but it's up to you to do the work. There's also no guarantee of the level of success and no implied monetary gain being offered by taking this course. The registration fee for the class is subject to change. By signing up for the email list or registering for the class you acknowledge this, and agree to it.

Joy + You, Unleashed
A sweet email course to reunite you with joy, packed with goodies + surprises just for you. Sign up with your email below.