Suzan Colon is a yoga expert and speaker, and the author of the book, Yoga Mind: Journey Beyond the Physical, 30 Days to Enhance your Practice and Revolutionize Your Life From the Inside Out. I'm thrilled to have her on the show this week to talk about her work and her book. Suzan Colon is a former senior editor for Oprah magazine, Details, Jane, and Harper's Bazaar, and I have found so much inspiration in what she shares with us this week.
In 2002, shortly after becoming a yoga instructor, Suzan's friend Francesco had a diving accident that rendered him unable to use his legs or arms. Suzan felt a strong sense that she could help him, and that he could use the properties of yoga to help him heal from the mental, emotional, and physical trauma he'd endured. In her book Yoga Mind: Journey Beyond the Physical, 30 Days to Enhance your Practice and Revolutionize Your Life From the Inside Out, she chronicles the first 12 months after Fran's accident, and, artfully weaves in the lessons of practicing a Yoga Mind for the reader.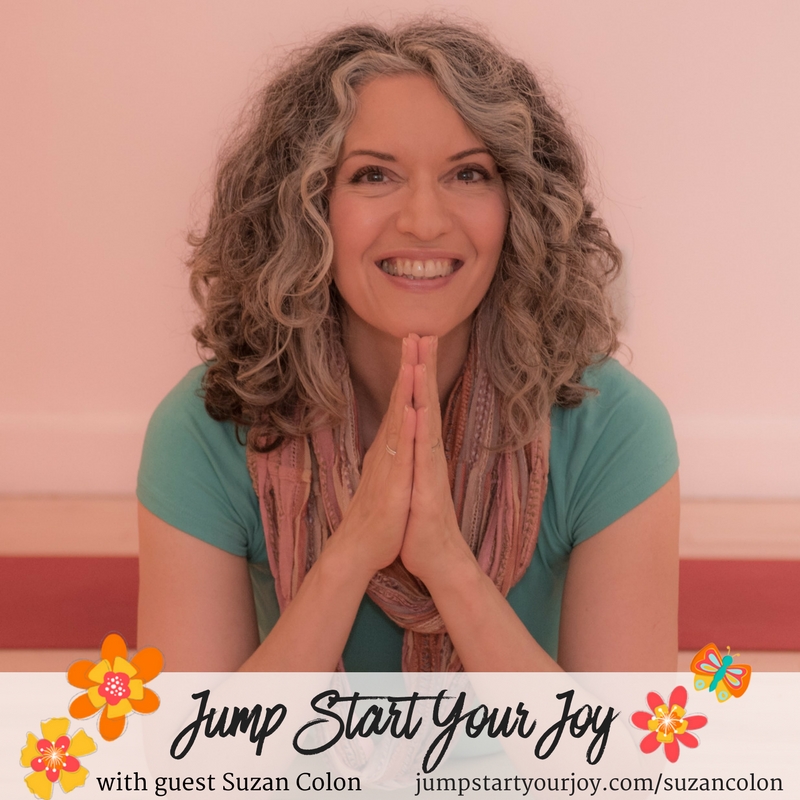 If you've been listening for awhile, you'll know that recently I'm really loving the idea of "Practicing the Vibration of Joy." There have been several seminal interviews that have started to shape my beliefs around the necessity of developing a "joy practice," and what I adore about Suzan's work and her book is that they are another link in the chain of thinking around this.
Pockets of Santosha
Santosha translates to contentment, and Suzan does a lovely job of explaining how contentment is closely aligned with joy. It's the state of realizing you are happy, fulfilled, well balanced. One of the stories she shares is about her friend, Marcy, who has been diagnosed with terminal cancer. Suzan was attending medical appointments with Marcy, and after several appointments had started to feel tired of answering the endless number of similar questions. Instead of sharing Marcy's real job with one doctor, the two started joking about how Marcy had worked in nuclear waste clean up. The two started giggling uncontrollably, and, as Suzan explains, felt the connection and a pocket of Santosha, even though they were in what is arguably an undesirable situation.
We can tap into these pockets, into the connection to a deeper source, and our own humanity, any time during the day. Think of the last time you giggled with a child or found yourself truly enjoying a meal, or laughing a full belly laugh with a friend. That's a pocket of Santosha. I think we feel these same kinds of pockets of joy, and they are powerful reminders of our connection AND our contentment.
Art of Contentment
Asana – When Suzan talked about Asana, I was really intrigued about how the physical practice of doing something ties in with it's spiritual counterpart. From the Yoga Mind perspective, it's the act of DOING the yoga. It supports the spiritual side of the practice.
From my own point of view, I can see that there is an Asana to joy – there's the spiritual feeling of joy itself, and then there is the practice that supports joy. So, for some, Asana might be playing with puppies, or, painting, or doing a podcast. Just as there are physical practices to other spiritual things, there is a physical practice to joy.
In this episode, Suzan Colon and I talk about:
Her earliest sparks of joy as a child: getting new books and reading them, spending time with her grandparents, and experiencing the art of contentment
Working as a senior editor for Oprah, Details, Jane, and Harper's Bazaar
How working at O Magazine influenced her to follow the spiritual side of teaching yoga
Training as a yoga instructor, and her desire to teach about the spiritual path of yoga
Fran's accident, their friendship, and how Suzan wanted to work with Fran
Asana as the physical practice of the spiritual
Maitri and kindness as part of life, and the way we interact with ourselves and others around us
The role of intuition in following your heart and purpose
The "Art of Contentment" – and how being content is a noble and joy-adjacent experience
Finding "Pockets of Santosha" – those moments when you feel a giddy, universal connection with someone or something and act on it in some way
Moments of joy, and how they make it easier to deal with the rest of life
How Suzan approaches resistance: Fear and enthusiasm are twins holding hands. She suggests that even when you are afraid, you "do it scared"
How to Jump Start Your Joy: by being kind, generating peace as part of our job on the planet, and taking the risk to do something you've always wanted to do
Resources
Suzan Colon's Website
Suzan Colon's book: Yoga Mind: Journey Beyond the Physical, 30 Days to Enhance Your Practice and Revolutionize Your Life From the Inside Out
How We Choose to be Happy: The 9 Choices of Extremely Happy People – Their Secrets, Their Stories by Tarcher Parigee (on Amazon)
Rick Springfield's interview with Lori Majewski on SiriusXM
Episode with Fred LeBlanc on Jump Start Your Joy
Episode with Julia Samuel on Jump Start Your Joy
Practicing the Vibration of Joy episode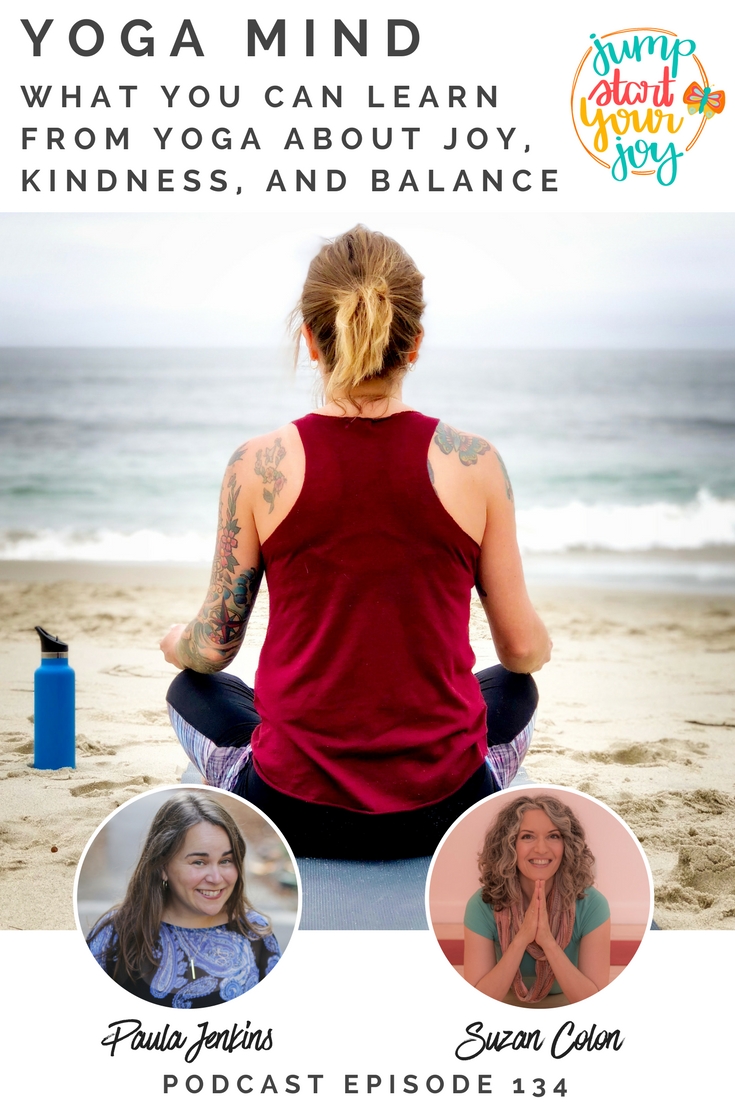 Joy + You, Unleashed
A sweet email course to reunite you with joy, packed with goodies + surprises just for you. Sign up with your email below.