This week on the podcast, I'm so excited to have Kelley Kosow joining me. Kelley joins me to talk about her new book, The Integrity Advantage, a book that I thoroughly enjoyed reading, and it comes out on November 1, 2017. Kelley is the CEO of The Ford Institute, which is the foundation started by Debbie Ford, author of The Dark Side of the Light Chasers and A Spiritual Divorce.
I adored getting to speak with Kelley, and I know you'll want to catch everything she has to say about integrity, how we can all spiral up together, and how to get in alignment with your own enlightenment. Plus we talk about how music, and the musical Wicked hold special meaning for her. She really dives in and talks about how she chose joy in her life, and how she got to where she is now, two topics I know you guys all love.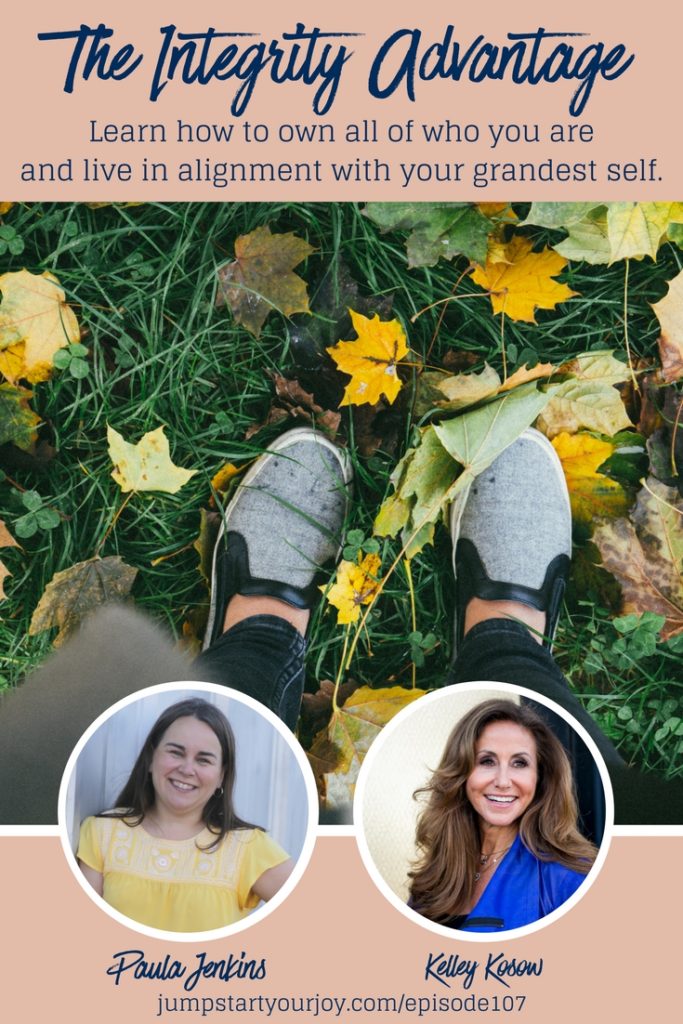 It was truly amazing to get to speak with Kelley, and I was delighted that we had so much in common – both of us were inspired to dive inward after getting divorced, both of us are previous perfectionists and people pleasers, and have really dug in and done a lot of internal work. I loved getting to talk to Kelley about her path, which includes having been a lawyer and Brown graduate, and I adore her story of actively choosing a different path, when she wanted to live beyond her to do list. You'll love her description of integrity, which is "owning all of who are are and living in alignment with your grandest self."
In this episode, we talk about:
– Finding your creative genius, and her love of making and sharing stories
– Being driven by perfectionist tendencies, and letting your to do list lead your life
– Starting the "Go Goddess" groups
– How she got her start with the Ford Institute
– Transformation as a shift in perception
– Kelley's definition of integrity
– Having intolerance for your own mediocrity
– Integrity snatchers, what they are and how to avoid them
– Enlightenment and the Integrity Alignment Monitor (I AM)
– Having an integrity protection program
– Letting go of being a fixer
– Kelley's thoughts on jump starting your joy: living integrity as a lifestyle, learning that things aren't just happening to us, and owning your shadow work
Resources from this episode:
The Integrity Advantage: Step Into Your Truth, Love Your Life, Claim Your Magnificence by Kelley Kosow
Kelley Kosow's website
The Dark Side of the Light Chasers by Debbie Ford
A Spiritual Divorce: Divorce as a Catalyst for an Extraordinary Life by Debbie Ford


Joy + You, Unleashed
A sweet email course to reunite you with joy, packed with goodies + surprises just for you. Sign up with your email below.