This week, I'm really thrilled to have Helen McLaughin on the show. She's a curiosity coach, and in the last two years she's gone from having a 9 to 5 job as an executive assistant to being a coach, getting married, and living full time on the road. I wanted to talk to her about what it's like, finding a foundation while living a life that is constantly in motion. Her answer is nestled in curiosity as a foundation for living, and I know you'll be inspired by everything she shares.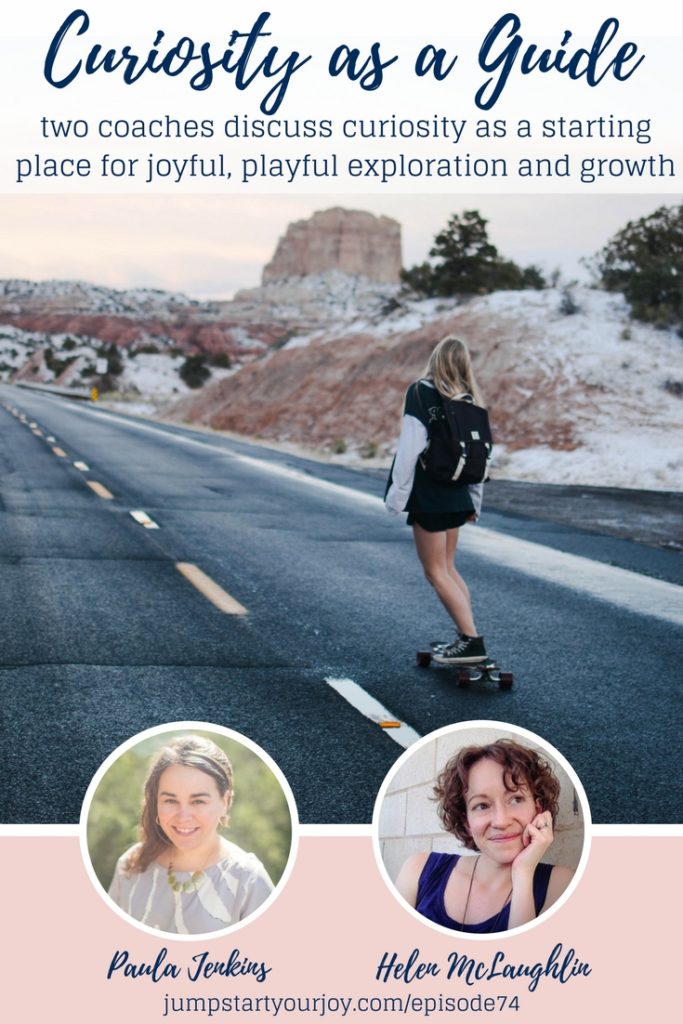 Helen I have known each other a couple of years now. When she took to the road with her husband about 18 months ago, I was fascinated by the idea of being constantly in motion, and loved the glimpses of her life that she shared in her weekly newsletter. She started her weekly newsletter about the same time I started the podcast, so it's been really fun seeing how each of us has grown and changed, and taken to two different mediums. I feel really lucky to have her on as a guest during this month where I'm talking about "foundations," as finding one's foundation while moving every couple of months seems like it would be hard.
Helen shares a lot about the journey, and the little routines she has that helps create a touchstones for her days. It's interesting, looking back at this discussion, to think that so many of us anchor our lives in things, in a specific place, and in routines that are dependent on objects we own. I really love that Helen has used her own natural curiosity, coupled with a rhythm and pattern to her days, along with connecting with people to create a stability and foundation independent of things or places. I think you'll love what she has to share.
In this episode we talk about:
– Helen's love of creating and making books as "places for stories to live" as a little girl
– How growing up as a Highly Sensitive Person (HSP) meant she found joys in places that were safe and comfortable for her, with her family
– How she shed the worry of doing everything right, by "reframing it all as an experiment"
– Curiosity as a foundation for life and work
– Traveling for her husband's work, and living on the road in an RV
– Writing as a foundation and touchstone each week, no matter where she is
– How her business (and mine) felt natural, as we both followed what felt natural and fun
– How having a weekly newsletter has been grounding, week to week
– That creating, connecting, and moving each day supports harmony
Resources
Helen McLaughlin's website: https://www.weeklyfindings.com/
Helen McLaughlin's newsletter sign up: https://www.weeklyfindings.com/subscribe/
Helen's Instagram feed: https://www.instagram.com/wonderinghelen/
Joy + You, Unleashed
A sweet email course to reunite you with joy, packed with goodies + surprises just for you. Sign up with your email below.