In this solocast episode, I'm diving head first into how you can find your inner calm in the midst of this chaotic Presidential Election. To set the stage, this episode is focusing on what's going on behind the emotions and intensity of this election, and what each of us can do recenter ourselves. Whether you support Hillary Clinton or Donald Trump, it's likely that you are feeling fearful about the outcome of the election. So let's take a look at what you can do, even when it feels like there aren't a lot of options.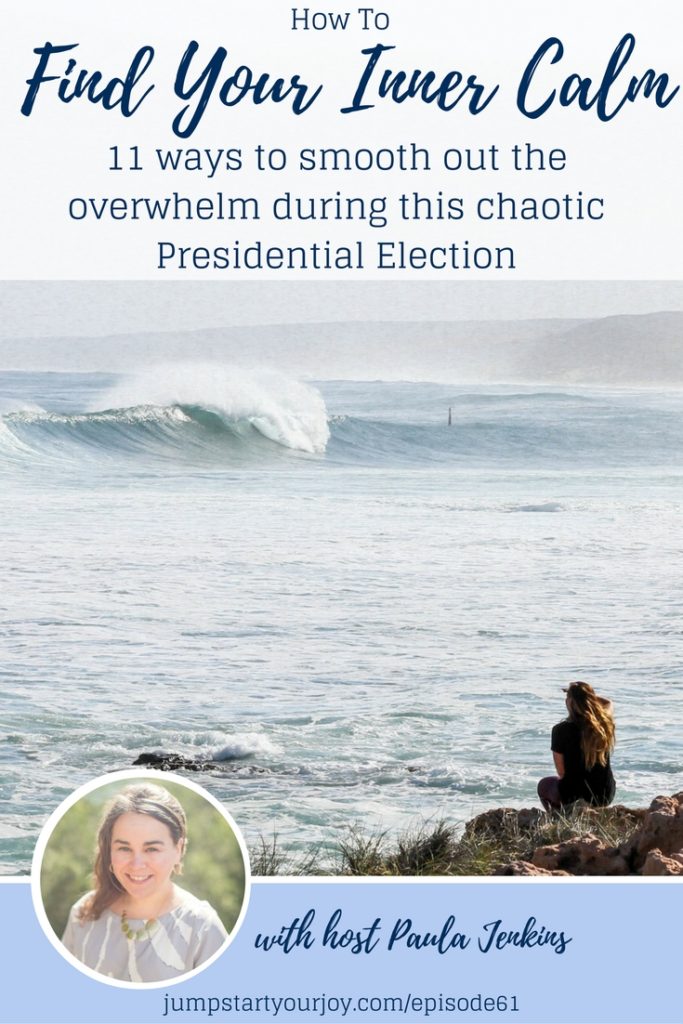 No matter the outcome, the country will face change. It's hard for many of us because with the intensity of this campaign, people are feeling triggered, overwhelmed, and helpless.
In this episode I share:
– my thoughts on why this election is so charged, and why these two candidates are so triggering
– what we can do as a nation to come together
– how our history as a nation can offer inspiration of how we can come together during hard times
– eleven ideas on how you find calm, including journaling questions to consider
– inspiring quotes from Anne Lamott and Winston Churchill
Resources
The Jungle by Upton Sinclair
Men to Match My Mountains by Irving Stone
Episode 6: Jann Cather Weaver on Radical Acceptance, Radical Hospitality, and Radical Gratitude
Joy + You, Unleashed
A sweet email course to reunite you with joy, packed with goodies + surprises just for you. Sign up with your email below.